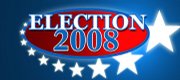 In-depth coverage of the candidates and the issues, all leading up to the Aug. 5 primary and the Nov. 4 general election.
Lynn Jenkins has won the endorsement of two prominent Lawrence politicians in her effort to win the Republican Party nomination in the 2nd congressional district.
State Insurance Commissioner Sandy Praeger and Lawrence Mayor Michael Dever announced their support of Jenkins.
"Lynn has the proven leadership to be a strong voice in Congress," Praeger said. "She is the Republican leader who will go to Washington and get things done," she added.
Jenkins, who is the state treasurer, faces former congressman Jim Ryun in Tuesday's GOP primary. The winner will run against U.S. Rep. Nancy Boyda, D-Topeka, in the November general election.
Copyright 2018 The Lawrence Journal-World. All rights reserved. This material may not be published, broadcast, rewritten or redistributed. We strive to uphold our values for every story published.