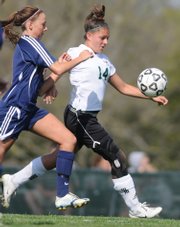 With the amount of attacking Free State High's girls soccer squad faced from Olathe East on Monday, the Firebirds at least can find solace that they limited the undefeated Hawks to just two goals.
Olathe East put up 12 shots - eight of them on goal - while FSHS got only one shot on goal in a 2-0 loss at Free State.
"I thought we did a great job defensively in terms of being organized and getting behind the ball," FSHS coach Jason Pendleton said. "Most of their shots were probably from distance and not up close, which was a positive in terms of how we played defensively. I feel good that we made them earn their goals and didn't give up anything cheap."
Olathe East definitely had to earn its goals against Free State keeper Fanny Peterson. On both occasions, the shot was taken from well outside the penalty box, with the second goal shot into a strong wind.
The Hawks' first goal wasn't scored until the 29th minute from about 25 yards out. The second score came 21 minutes into the second half.
With O-East's ability to sub bench players in waves - at least five or six at a time - every 10 minutes, it was only a matter of time before the fresh feet capitalized on the gassed Firebirds (5-8).
"I think their depth is probably one of the primary factors that makes them such a great team and why they are undefeated right now and obviously the top team in the Sunflower League right now," Pendleton said. "They are just so athletic at every position, and then when they sub there is no drop-off. So I think over time that just wore on our team from a physical standpoint and makes it incredibly difficult to compete over the long haul."
Free State's only shot attempt came eight minutes into the half by sophomore midfielder Hannah Carlson from outside the box.
"They kept their pressure up really well all game long," Carlson said. "Every time we got the ball, we only got like two seconds to do something with it. We had some runs going and we had many opportunities where we could have had some shots, but they just stepped up."
Copyright 2018 The Lawrence Journal-World. All rights reserved. This material may not be published, broadcast, rewritten or redistributed. We strive to uphold our values for every story published.