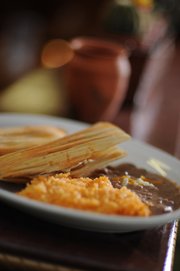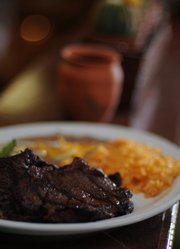 On the street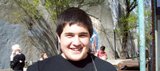 This is really lame, but it's tacos. It's like a little corn envelope filled with heaven in delicious meat form.
While others are enjoying the benefits of Cinco de Mayo on Monday, Remigio Mier will be hard at work.
Mier, who opened Tres Mexicanos Mexican Grill and Cantina, 1900 E. 23rd St., in August, knows the hard work it takes to keep a Mexican restaurant going. He also has owned Taco El Sol in Topeka, 2124 S.E. Sixth St., since 1998.
"It depends on everybody. It depends on the dishwasher or depends on the owner - he helps a lot. A lot," server Diego Bonsignore says of Mier. "He's like another employee."
In August, Mier opened the restaurant. Three years ago, he enlisted a friend and his own brother-in-law, Francisco Martinez, who lives in California, to open the restaurant. The partnership gave birth to the restaurant's name - Tres Mexicanos - even though the friend eventually backed out, leaving dos instead of tres.
Prior to moving to Topeka, where he still lives, Mier was a cook in California after coming to the U.S. as a young man from Zacatecas, Mexico.
Mier's wife, Maria, now runs Taco El Sol, while her husband spends "Monday to Monday" taking care of Tres Mexicanos, many times arriving from his Topeka home to the East Lawrence restaurant at 7 a.m. and not leaving to go home until midnight.
"I work 200 hours a week," he says with a bit of playful exaggeration, adding he's looking forward to August when he plans to take a vacation to Mexico while Martinez comes in from California to manage the restaurant for a month.
Despite his obvious time crunch, Mier says he has plans to do more with the restaurant, including possibly opening it for breakfast on weekends.
"We work hard, we try to please the people, whatever they want, we try to do it," says Mier, whose restaurant already has an expansive menu that includes Mexican favorites like queso fundido, enchiladas and tacos as well as different fare, such as several steaks entrees, pasta dishes and burgers.
Bonsignore, an employee since the restaurant's opening, says that Mier's "please the people" philosophy trickles down to everyday work. Bonsignore says that despite his level of exhaustion or the things he has to do to manage the business, Mier never loses his trying-to-please attitude, even when it comes to his own employees. This, Bonsignore says, makes for a harmonious work environment.
It'll be like that again Monday, when Mexicans celebrate an important battle victory - and Mexicans and others celebrate Mexican heritage.
"At any moment we work together, he also helping out at the bar or with (preparing) chips and salsa, doing tables," Bonsignore says. "This is kind of silly, I asked him to do something. It's like, 'Remi, can you do this for me? Please?' And (he says) 'Yeah, of course.' This is my opinion, this is the first job that I had that the owner is one of us."
Copyright 2018 The Lawrence Journal-World. All rights reserved. This material may not be published, broadcast, rewritten or redistributed. We strive to uphold our values for every story published.