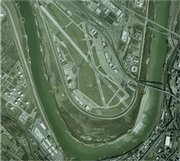 A company that produces digital maps for area, state and federal agencies and governments soon will be accommodating its rising workload by establishing an office in Lawrence.
Western Air Maps Inc. plans to open its Lawrence operation, at 901 Ky., by the end of May.
The new office will start with five employees and with plans for hiring another five to seven more, said Clint Wedel, regional manager. The company already has about 40 employees at its Overland Park headquarters, and another five at its first regional office, which opened this month in Cuba, Mo., near the campus of the Missouri University of Science and Technology, in Rolla.
Lawrence became a logical choice for more expansion as the company continues to land government work - largely through subcontracts with defense contractors BAE Systems Inc., Boeing Corp. and Harris Corp. - to compile three-dimensional maps.
Kansas University has plenty of graduates in geography, especially ones proficient in the computer programs and overall thinking to help the company's clients view the world using high-tech - as in stereo-pair - photographs, Wedel said.
"The economic downturn after 9/11 really hurt," Wedel said, "but that's also when the government got into spending more money on these maps."
Wedel said that up to 75 percent of the company's revenues for this year are expected to come from work for the three major government contractors.
The work ultimately ends up being for the National Geospatial-Intelligence Agency, which is part of the Department of Homeland Security and whose mission is to provide "timely, relevant and accurate geospatial intelligence in support of national security objectives."
Most of Western Air Maps' work involves sites abroad, Wedel said, because the United States essentially has been mapped already.
"This is basically creating a worldwide map database in conjunction with 28 other countries, and we're a part of that," Wedel said.
Wedel, a Lawrence resident, started his mapping career with Western Air Maps in 1997, after graduating from KU with degrees in geography and environmental studies. He left the company in 2005 to work for Spatial Data Research, a Lawrence company that provides geographic information system products for local governments and public safety operations, before rejoining Western Air Maps to establish the Lawrence office.
Copyright 2018 The Lawrence Journal-World. All rights reserved. This material may not be published, broadcast, rewritten or redistributed. We strive to uphold our values for every story published.