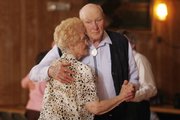 By 2030, 20 percent of all Kansans are expected to be age 65 and older. Lawrence is already attracting a growing number of retirees, people with a connection to the university, those with children living here and others who just seem to enjoy the community. Can Lawrence capitalize on this growing population, and at what cost?
When Mona Kelter and Frank Knernschield step onto the dance floor, they're prepared to stay there.
The Topeka residents dance five days a week at locations around Lawrence and Topeka, including Sunday nights at the Eagles Lodge, 1803 W. Sixth St.
"We dance like nobody's watching," said Knernschield, 76. "We just do what we want to and act silly and have fun."
The Shake and the Twist are two of their favorite dances, but Sunday nights are reserved for country-western tunes, and Kelter and Knernschield aren't alone in their love for dancing. The crowd at the Eagles Lodge is usually more than 100 for the Sunday night dance, organized by Oldsters United for Responsible Service (OURS).
Attended mostly by seniors, the dances used to be held at the Lawrence Senior Center, but tight quarters and the presence of stairs pushed OURS out. In January, the 26-year-old organization took its dance party to the Eagles Lodge. It now draws twice what it did at the Senior Center, bringing people from Topeka, Kansas City, Wellsville and beyond.
"We're glad to have them here," said Doris Bateson, a past president of the Eagles national organization. "Where else could they go?"
"The thing about these folks is when you say 'seniors' dance,' people say, 'What are they going to do, get out there in their wheelchairs?'" said Nancy Shockley, the group's vice president. "They'll dance you under the table. These people are real go-getters."
Sunday night's entertainment was a country-western band called Borderline Country, which played waltzes, line dances and specialized songs for chair dances, where men and women rotate dance partners.
Knernschield, a diabetic, keeps a pedometer on his belt. That way he knows how far he's walked during the day, and even how far he's danced - nearly five miles by the halfway point of the dance.
"10,261 steps," he said.
The dancers say it provides an outlet for socializing and even exercise. But there's one problem.
"The trouble is there's not enough men," said Georgia Masten, a Waverly resident. "The line for the women is pretty long, so we need more men to come out."
Copyright 2018 The Lawrence Journal-World. All rights reserved. This material may not be published, broadcast, rewritten or redistributed. We strive to uphold our values for every story published.