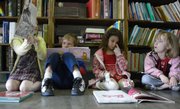 Make do and move on.
That's the main message Bruce Flanders, director of the Lawrence Public Library, has after high hopes for a nearly $30 million expansion for the building were put on indefinite hold by the Lawrence City Commission last November.
"The price tag was just too high," he said.
After five years of developing a plan to expand the 45,000-square-foot, 36-year-old building at 707 Vt., or to rebuild at a new location, Flanders and a library board have had to face the question: "Now what?"
"It's disappointing, but at the same time it was really beneficial for us to have a response from the City Commission," Flanders said. "... Now we can look at Plan B."
The challenge remains in deciding how a backup plan can satisfy the pressing needs of the library as did the original proposal. Because while the momentum for an expansion has waned, the needs have grown.
Last year, the library broke a record with 1.1 million checkouts. Holds alone for items have grown by nearly 3,000 in the past four years.
Carole Dibben, circulation director, said on any given day, 1,200 materials are on hold.
"We've reached a point where there's nowhere to store them," she said.
With a bustling circulation department that faces long checkout lines, overflowing book bins and small work space, the staff is aware daily that what they have now just doesn't cut it.
"We need room for additional desks and computers," Dibben said. "Sometimes all the phone lines are ringing and staff can't get to a computer. Right now there are some insufficiencies in our work room."
The library also faces a slim budget. Flanders said the library is about 2 percent of the city's budget.
"Our operating budget per capita funding is dramatically less than other Kansas communities, so we're pretty significantly underfunded compared to communities such as Hutchinson, Salina and Manhattan," he said.
Flanders said the board will reconvene this summer to brainstorm other possibilities to expand services with the same budget and the same amount of space.
City commissioner Rob Chestnut said he looks forward to a new, less costly proposal.
"I think that at some point we all know that they need a little bit different facility," he said. "I think that unfortunately the proposal that was put forth was about $30 million and included a parking structure. It was an ambitious project and quite honestly something that would have required a bond issue to go to the public, and I think at this point, with the way the economy is rolling, it just wasn't a good idea."
The tight economy that prevented the proposal from being approved is another reason why people keep flocking to the library, Dibben said. During difficult economic times, people need the free services the library provides.
"The building used to hum. Now it buzzes and it roars on a really busy day," said Dibben."It's such a vital library. I never cease to be amazed at how vital it is."
To continue to meet an increasing demand, the library has to be innovative, according to Flanders.
"We're being presented with an opportunity with a lack of funding and space to reinvent the way we provide service," he said.
The question on his mind: "How can we expand the library service in our existing building and make this current facility a library that can leap over the challenge of the coming years and become the library of the future?"
The biggest challenge is maximizing the limited space they have. But where?
"We're just going to have to make it," Flanders said.
One way to help is to start taking outdated materials off the shelves, what Flanders calls "weeding out." He said the 100,000 adult nonfiction books on their shelves could be reduced by one-third, because many are outdated or are in poor condition.
Enhancing the library as a community center is another goal. The one meeting room the library has for everything from lectures, children's reading hours and senior programs isn't enough.
"It's been so heavily used, we have had to turn people away," Flanders said.
Flanders said staff and offices may need to be compressed, but they still must provide adequate and aesthetically pleasing public space and access. Satellites to the library is another idea that's been discussed.
This summer, Flanders said the library plans to add three self-check machines, one of which will replace the one they already have. The machines allow library patrons to check out their own materials rather than waiting in line at the checkout desk.
"We're pushing to make that happen, because the checkout of library materials, while heavy year-round, peaks during the summer," Flanders aid.
Flanders expects the library to move toward more digital materials such as downloadable audio books in the next decade, which will increase space availability.
Copyright 2018 The Lawrence Journal-World. All rights reserved. This material may not be published, broadcast, rewritten or redistributed. We strive to uphold our values for every story published.