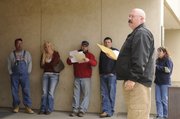 Kansas - and Lawrence in particular - has been somewhat insulated from the rash of home foreclosures that has swept through the nation in the past year.
For the fourth quarter of 2007, national foreclosures hit a record high, according to the Mortgage Bankers Association. A little more than 2 percent of all mortgages in the United States were somewhere in the foreclosure process during the fourth quarter.
But it's quite a different story in northeast Kansas. As of January, the state ranks 40th in terms of foreclosures, according to RealtyTrac Inc., a California-based research company.
"In Lawrence and in northeast Kansas, we are fairly blessed by the fact that houses are still selling, the sales rate is pretty good here, and people are still getting close to their listed value or their appraised value. And some people are getting more," said Robert Baker, who is a counselor at Housing and Credit Counseling Inc.
The Midwest's reputation as a fairly stable housing market - in contrast to the more volatile coastal markets - has held true.
During the real estate boom, the region didn't see the "frothy run-up" of home prices that other areas did, said Mike McGrew, chairman and CEO of McGrew Real Estate. Not as many homeowners cashed in on home equity loans at "fantastically high values," he said. It was a trend that has left some with more debt than what their house is worth as values dropped.
"The behavior is a little more subdued, the market is a little more stable," he said. "And, so far - knock on wood - we haven't seen the big avalanche of foreclosures."
In fact, compared to 2006, Lawrence hasn't even seen a snowball-sized increase.
In 2007 compared to 2006, Douglas County had just three more houses - for a total of 88 - auctioned off at a sheriff's sale.
The sheriff's sale is the final step in the foreclosure process. It occurs when the homeowner stops making mortgage payments. In most cases, the bank buys the house back for the amount left on the loan. However, in some instances, developers or real estate agents looking for a sweet deal will purchase the home.
Regional numbers
Douglas County has weathered the foreclosure storm better than its neighbors.
In Shawnee County, the number of houses auctioned off at sheriff's sales went up by 11 percent in 2007. A total of 485 homes were sold. The rise is more stark when compared to 2005 numbers, where there was a 38 percent jump.
Shawnee County Sheriff's Sgt. Alan Simon, who oversees sheriff's sales, said he noticed the jump. And the numbers seemed to continue to rise into 2008.
For the first sale of the year, Simon said between 30 and 40 homes were auctioned off in one day.
"We have done one in every part of town," Simon said.
Shawnee County isn't the only area with double-digit increases.
Wyandotte County had a
12 percent increase from 2006, with 929 homes going to sheriff's sales. And Leavenworth County had a 24 percent increase from the previous year.
At the halfway point
While Lawrence has seen little to no change in foreclosures, McGrew said he has definitely come across stressed sellers who own property that isn't worth as much as they thought it was and are strapped with mortgages higher than what they had anticipated.
"There aren't a whole bunch of desperate sellers out there that are about to go to the bank, but that is not to say there are none," McGrew said. "But we just don't have the headline material that other places do."
Bankruptcies, another sign of economic hardships, have gone up. Compared to the first half of 2007, the number of personal bankruptcy cases filed by Douglas County residents increased by almost 30 percent.
Some analysts predict that the mortgage crisis will get worse before turning around. The start of 2008 was heralded as the halfway point.
That's because a bulk of adjustable-rate mortgages - those home loans that offer attractive interest rates for the first few years of the loan and then bump the rate up for the rest of the loan's life - are scheduled to reset this year. Homeowners with those loans could see a huge jump - some as much as 50 percent - in their monthly mortgage payments.
"I don't see any immediate relief," Baker said, "but at the same token I don't see things in Lawrence getting really, really bad."
Copyright 2017 The Lawrence Journal-World. All rights reserved. This material may not be published, broadcast, rewritten or redistributed. We strive to uphold our values for every story published.