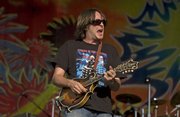 Organizers of the Wakarusa Music & Camping Festival have weathered a lot: law enforcement that was viewed as oppressive, traffic jams, irate audiences, conflicting expectations.
But now entering its fourth year, things have started to really jell for Lawrence's premier concert gathering.
"We had to experience our hiccup with the law enforcement and the backlash from that," said Wakarusa organizer and founder Brett Mosiman. "But the feedback was all positive last year. We corrected the traffic and the perception of heavy-handed law enforcement. We got back to what it should be: great camping, great friends, great music."
Despite exploring the relocation of the festival, Wakarusa has returned to Clinton Lake State Park. Organizers had attempted to move it north of Lawrence due to the park capping attendance at 13,500 per day (down two years ago from 15,000).
"All in all, we love being at the park. They are just not interested in growing the festival," Mosiman said.
Regardless, Mosiman calls Clinton Lake State Park the "best festival location in the country."
"It's five minutes to town and hotels. It's two minutes from major highways. It's five minutes to Target and Wal-Mart and gas stations and liquor stores. So many of these things are in a corn field 20 miles from nowhere," said Mosiman, who revealed festival-goers can expect new amenities this year such as VIP camping with pre-setup RVs.
Park manager Jerry Schecher said his staff had learned quite a bit about handling a large-scale festival. And he admitted the lower attendance makes his job less problematic.
"We try to be accommodating to the promoter and the patrons who come, while keeping mindful of law enforcement issues and environmental issues," Schecher said.
He explained that attendance capacity is based on how his administrators, wildlife division and local law enforcement predict the festival will impact infrastructure and the environment.
"At this time, I don't think we can handle much more than that (number)," he says. "I'm talking more about our utilities - our water and electric, and our ability to handle the sewage - and our road system."
Schecher says he doesn't foresee any major changes to how his staff will deal with the festival, which is June 5-8.
"I think things went well enough last year that we'll probably employ some of the same procedures in handling the traffic and patrons that we did last year," he said. "It's a special event involving a lot of people. You can't really set anything in concrete. Plan for the most and hope for the best, and be ready to make changes last minute if you have to"
While Schecher confesses that at some point he would love to see Neil Young perform at Wakarusa, Mosiman is particularly inspired by this year's lineup - which even the most casual fan can recognize as its most high-profile docket ever.
"We're not done announcing bands, but there are a few household names like Cake and Emmylou Harris. We've got a bunch of people that have never played the festival before, like Bettye LaVette and David Grisman. It's probably our most diverse lineup because we have more reggae and quite a bit of hip-hop. ... Our Sunday (folk and bluegrass) lineup would really compete very positively with anything Winfield's ever had," he says, alluding to the Walnut Valley Festival in Winfield.
Mosiman also cites the first appearance of guitarist Dweezil Zappa playing father Frank's music as a real draw. And he's pleased to be able to lure Flaming Lips back for an encore to the Grammy-winning band's rather legendary 2006 appearance at Wakarusa.
"Flaming Lips was the attraction of our greatest crowd ever," Mosiman says. "They're bringing in all-new stage show this summer that is going to be this 'ginormous' UFO with lasers. It will be an odyssey."
Copyright 2018 The Lawrence Journal-World. All rights reserved. This material may not be published, broadcast, rewritten or redistributed. We strive to uphold our values for every story published.