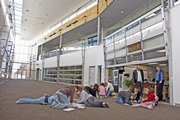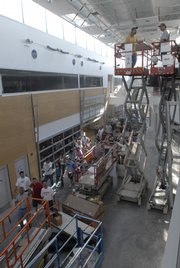 Lawrence contractors didn't benefit from all jobs available through the $54 million worth of improvements to schools approved in the 2005 bond issue.
But administrators say they are happy with the amount of business local companies received working on all four junior high schools, both high schools and Broken Arrow School, coupled with the projects overall coming in about $1.5 million under budget.
"Many have kids in school. They're paying taxes. It's great when the local vendors are able to work on our buildings," said Tom Bracciano, the Lawrence schools division director for operations and facility planning.
B.A. Green Construction in Lawrence was one of two general contractors who ran the jobs at Lawrence and Free State high schools and Southwest Junior High School.
DLR Group Inc., which has an office in Overland Park, was the project's overall construction manager. Ferrell Construction of Topeka was the general contractor for South, Central and West junior high schools.
The three architectural firms, Gould Evans Associates, Treanor Architects and GLPM Architects, were Lawrence companies. Treanor and GLPM have since merged.
"Whenever the opportunity presents itself to use somebody locally, we usually jump at the opportunity," said Tracy Green, president of B.A. Green.
Of the 63 subcontractors listed on the B.A. Green projects, 18 were from Lawrence. Two Eudora companies earned bids, and so did one company each from Baldwin City or Ottawa.
Green said construction is a regional industry, and that's reflected in the list of subcontractors because many of the others are from the Topeka and Kansas City areas.
But it sometimes can be a bonus for contractors to work with subcontractors from the same city.
"We're all comfortable using these guys that we've worked with for years, and it's almost like a good marriage," Green said.
Of Ferrell Construction's projects, fewer Lawrence-based subcontractors were used.
The company employed two Lawrence companies to work on the Central expansion and renovation, and of the 30 subcontractors at West, seven were from Lawrence.
For the largest project, renovation of Broken Arrow and building the new South, only one Lawrence subcontractor, Kennedy Glass Inc., was among the 35 listed.
Bracciano said it can get complicated when selecting bids because the school district has budgetary restraints and also has an ultimate obligation to taxpayers.
"Competition's really tough for construction. When it gets tighter, you might not always be able to use your local guy," Bracciano said.
But if bids are close enough, often, the school board will favor a Lawrence company.
Green said the projects likely helped out several companies in the business, especially with the housing slowdown.
His company focuses more on the commercial side or in public projects, such as the expansion in the Perry-Lecompton school district, which wrapped up just before the Lawrence projects. B.A. Green also lands frequent projects from Kansas University and other area municipalities, he said.
"By comparison to what's going on now in the residential market, that really hasn't impacted our business on the commercial end," he said.
Copyright 2018 The Lawrence Journal-World. All rights reserved. This material may not be published, broadcast, rewritten or redistributed. We strive to uphold our values for every story published.