Press Conferences & Post-Game Interviews
Mario Chalmers announces his entry into NBA Draft
KU junior guard Mario Chalmers on Wednesday announced his intention to enter the 2008 NBA Draft without an agent, leaving open the possibility for a return to Kansas for his senior season.
Mario Chalmers going to NBA Draft
Photo Gallery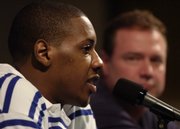 Mario Chalmers' Press Conference
Photo Gallery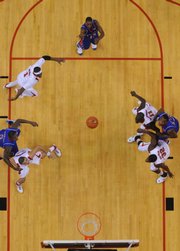 Mario Chalmers 2007-08
Kansas University junior Mario Chalmers - who 21â2 weeks ago hit the biggest shot in KU basketball history - may have hoisted his last jumper in college.
Chalmers, whose clutch three-pointer sent KU's 75-68 NCAA championship victory over Memphis into overtime, on Wednesday announced he's entering the 2008 NBA Draft without an agent.
The 6-foot-1 guard from Anchorage, Alaska, indicated he'd return for his senior season only if he's not guaranteed a spot in the first round.
"It played in my choice a little bit," Chalmers said of the fact it might be tough to top his personal one shining moment. "I mean, that shot is a one-in-a-million chance. I'll probably never have that chance again to shoot a shot on that big a stage. It was a good shot. It brought us a national championship. I think it's just time to move on from that."
He has become a household name after winning most-outstanding-performer honors at the '08 Final Four.
"I think it helped my stock a lot, just going through the tournament," Chalmers said. "The biggest thing was my team winning. It's what a lot of (NBA) coaches look at. Winning weighs heavily on guards."
There are a lot of guards - seniors, underclassmen and foreigners -entering the June 26 draft, which is why Chalmers is keeping his option open of returning to KU.
He plans to attend the NBA pre-draft camp May 27-29 in Orlando, Fla., then hold workouts with several NBA teams. He has until June 16 to withdraw his name from the draft if he wants to play again in college.
"If everything works out positively, then I'm going to stay in the draft. If not, I'm going to come back next year and lead KU to another national championship," Chalmers said.
"Right now, I'm hearing I'm between 25 and 35 (picks overall). That's what coach (Bill) Self told me. I'll work out and see if I can move up. If I hear anything that's not in the first round, I'm just going to come back."
Only the 30 first-round picks receive guaranteed contracts.
"I think Mario is a first-round player," Self said. "I (also) think it's a deep draft. I think it's guard-heavy.
"The bottom line is, I believe in him. He's as good as anybody out there. I think next year's draft probably won't be as strong on paper. It's something he should consider, but he's earned the right to investigate. We support him in that and know he'll handle it appropriately."
Self - who last week learned junior Brandon Rush would enter the draft with an agent and sophomore Darrell Arthur without an agent - was not surprised Chalmers decided to put his name in the hat.
"This is a day I saw coming as soon as we won the national championship. He makes a play and is on the cover of everyone's magazine : I thought, 'You know, there could be a chance he may test the waters,''' Self said with a smile.
"I don't think this is anything that should surprise anybody. Mario has been deliberate in the process, which is smart. He's slept on it many nights."
Self said he simply wants Chalmers to make an informed decision.
"Mario knows I feel this way ... I would be very disappointed if he'd risk it because I do believe he has a career at some point in time playing in the league. I don't think it's worth a great risk," Self said of Chalmers staying in the draft if he's informed his first-round chances are slim. "I think he will know (after workouts) if it is (risk) or not."
Chalmers said his coach needn't worry. His decision will be well informed.
"I looked at the pros and cons, and I don't think hiring an agent right now would be the best fit for me right now personally just because I'm not projected that high in the draft," Chalmers said.
NBAdraft.net says Chalmers will be the No. 27 pick of the first round (by New Orleans). Draftexpress.com does not have Chalmers listed in its latest first and second-round projections.
"It's just great that I have the opportunity to come back if I can and the opportunity to go if I can. I think it's a win-win situation," Chalmers said.
Chalmers, who has not yet watched a replay of the title game - "I'm waiting for the right time," he stated - has seen his picture plastered on the cover of Sports Illustrated all over town.
"(Asking) whether he can top it or not ... it didn't keep Michael (Jordan) from trying to win two, three, four, five, six (titles with Bulls)," Self said. "The more you win, the more you want. I want more. I guarantee you if Mario is back he will be hungrier than ever. Did (Green Bay quarterback Brett) Favre quit after he won an MVP? It's not the way athletes are wired. It's not the way Mario is wired.
"Coaching Mario after he's made the shot I don't think will be any more difficult than coaching Mario before he made the shot. I think (if he returns) it would be a great opportunity to lead a bunch of young guys who don't know any better, help mold the team the way he wants it molded," he added of the 2008-09 Jayhawks with Chalmers at the helm.
Copyright 2018 The Lawrence Journal-World. All rights reserved. This material may not be published, broadcast, rewritten or redistributed. We strive to uphold our values for every story published.