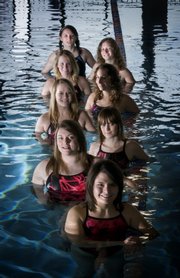 Heading into Thursday's final home meet of the season, the Lawrence High girls swimming and diving team has qualified for 15 spots at the state meet in May.
Of those 15, just one has been delivered by an LHS senior. Considering the fact that there are 11 seniors on the squad, the number is surprisingly low. But when the overwhelming talent and dedication of the underclassmen is taken into account, the disparity doesn't cause so much as an ounce of animosity.
"Our younger girls are amazing, they really are," senior Katie Jones said. "You can't be upset about it. You just have to be happy for them and support them because they're part of the team."
It's that kind of attitude - which Jones shares with 10 other seniors - that leaves Lions coach Kent McDonald with a sense of relief.
"A couple of the seniors were on the top relays and, as the season has gone on, they got pushed back a spot," McDonald said. "That's been a big worry for me, but so far nobody has seemed to be too upset about it. In fact, what I have seen more is that the seniors who are getting beat by the younger girls are still trying hard and still pushing themselves to beat them. They haven't given up."
The lone senior to qualify for state thus far is diver Mallory West. But even though her interaction with the swimmers is limited, West said she and the rest of the seniors have embraced their roles on this year's team.
"We don't really teach the younger girls things," West said. "That's more for the coaches to do. We just try to lead by example with work ethic and we encourage them as much as we can."
The sunny side of McDonald's dilemma is that swimming is not like basketball, baseball or football. In those sports, if freshmen or sophomores are good enough to play varsity, they often do so at the expense of upperclassmen.
That's not the case with swimming, where McDonald has the luxury of inserting girls into multiple events without hurting the team. In fact, entering more girls increases the odds of scoring points in each event. That, McDonald said, has become a huge factor in how the seniors have handled the influx of talented underclassmen.
"They all realize we're winning, or doing better, because of them," McDonald said.
While that may be true in a competitive sense, the seniors themselves are making their own strides. Nearly all of them have improved their times throughout the season and a few are closing in on state-qualifying times.
During the moments when they're not contributing, the seniors find other ways to stay involved. From helping the younger girls adjust to varsity meets to educating them on LHS traditions, the Lions' leaders have taken a sense of pride from what they've been able to add.
"There are a lot of traditions that they don't know about that are fun to introduce to them," senior Hannah Buchner said.
One such tradition is the spelling out of "Lawrence Lions" before each meet. Another is the animal cracker honor, in which senior co-captains Paula Kyriakos and Melissa Naff hand out three boxes of animal crackers to the top swimmers each week.
With so many members of this year's team also competing with the Aquahawks during the rest of the year, focusing on fundamentals and technique has not been a major emphasis. However, nearly all of the underclassmen said they had learned something from the seniors throughout the season.
"I think all of the seniors are great leaders," said freshman Rachel Buchner, younger sister of Hannah. "They're really nice to all of us and they haven't bullied us or anything like that. They all come to practice every day and work really hard, and they support you no matter what."
Copyright 2018 The Lawrence Journal-World. All rights reserved. This material may not be published, broadcast, rewritten or redistributed. We strive to uphold our values for every story published.