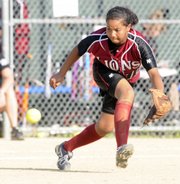 Lawrence High freshman pitcher Lauren Massey didn't quite pitch 50 innings Tuesday at Holcom, but it may have felt like it.
Massey pitched all 19 innings of Lawrence's twinbill against Leavenworth and Shawnee Mission West. She threw 186 pitches in the four-hour period.
After defeating Leavenworth, 7-1, Massey went all 12 innings in a 3-2 loss to Shawnee Mission West.
"My arm's a little sore, but it's feeling good," Massey said. "With all of the adrenaline, you just keep going. It doesn't matter if it's 50 innings. You just try to keep going one more inning, no matter what."
The LHS offense set Massey up early in the loss to the Vikings. Kallie McClure led off the bottom half of the first with a single and was knocked in by Kacie Welborn after a sacrifice bunt by Jamie Morgison sent McClure to second.
LHS held on to that lead until the sixth inning when SM West collected four singles and took a one-run lead.
The Lions went down in order in the bottom of the sixth, but in the bottom of the seventh, Jamie Jarrett got on with a triple. Jasmyn Turner followed with a bunt to bring in Jarrett and send it to extras.
"I wasn't thinking triple," Jarrett said of the one-out hit. "I was thinking second, then she (LHS coach Reenie Stogsdill) kept telling me to go and I was like, 'OK, I guess I'll go.'"
The Lions' momentum was stifled in the top of the 12th, however, when the Vikings smashed a leadoff home run to seal the game.
Earlier, Massey had her A game going in game one against Leavenworth. The freshman pitcher allowed just three hits - all singles - while striking out five and issuing zero walks.
"That's the best I've seen her pitch, and her drop ball was falling off the table, and her curve ball was too," Stogsdill said. "Those were the two pitches that really kept hitters frustrated and off balance."
Lawrence's Brittaney Krug put up a triple of her own in the Leavenworth game. Welborn, who had LHS' first RBI against the Vikings, also had a RBI against the Pioneers.
Copyright 2017 The Lawrence Journal-World. All rights reserved. This material may not be published, broadcast, rewritten or redistributed. We strive to uphold our values for every story published.