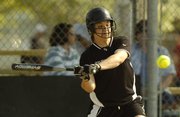 Starting pitcher Catherine Smith couldn't help herself at the plate in Free State's 1-0 softball loss against Shawnee Mission West on Tuesday at Holcom.
But Smith came up big for little sister Megan Smith in the Firebirds' next game - a 9-3 victory over Leavenworth.
"She definitely hit really well this game," Megan said of her older sister. "She's been hitting really good. I think she was hitting for me. So that was good."
Megan was given a three-run lead when Catherine hit a three-run home run in the bottom of the first inning.
"It just happened. I hit a home run the other night, so I was like, 'OK, I don't need to go up there swinging for the fences,'" the older Smith said. "I just got a good pitch, made an adjustment because I had been dipping my hands and I finally got one - just barely."
Free State also got two hits - one a double - with two runs and two stolen bases from Kelsey Leinmiller-Renick against Leavenworth.
Against SM West, Free State collected just two hits and struck out 12 times.
Catherine was solid from the circle, but the three singles allowed in the third inning gave the Vikings enough to down Free State.
"That run should have never scored though," Catherine said. "It was just one bad pitch, and that's all it takes to win or lose a ball game."
After giving up SM West's only run, the senior starter sat the next 14 batters down.
"We've seen decent pitching and fast pitching, but we haven't seen movement like she has," Catherine said of SM West's Morgan Brunmeier. "But it was just a one-run game - I hate that."
Copyright 2018 The Lawrence Journal-World. All rights reserved. This material may not be published, broadcast, rewritten or redistributed. We strive to uphold our values for every story published.