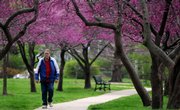 -->
Itching to get outdoors? Beware. The outdoors may make you itch.
"I enjoy this time of year because of the hot weather ... but my head feels like a balloon right now," said Megan Geimer, a Kansas University junior and allergy sufferer.
For many people with seasonal allergies, the enjoyment of spring's blooms and sunshine is overshadowed by a barrage of allergy symptoms.
But don't blame the pretty flowers. The main culprits are wind-pollinating plants, such as eastern red cedars, oaks, ash and cottonwood, said James Ransom, a physician with the Topeka Allergy and Asthma Clinic.
"They have to produce large amounts of pollen," Ransom said. "The pollen has to be carried on air currents from one plant to another, so it's also available to be inhaled by animals and humans, and it can cause a lot of allergy."
Typical allergy symptoms are itchy, watery eyes; an itchy throat or back of the throat; and sneezing fits. And - whether it's trees or other allergens - the adverse reaction is common.
Twenty to 25 percent of the general population has allergic respiratory disease, said Daniel Stechschulte, division director of allergy/clinical immunology/rheumatology at KU Medical Center. Stechschulte said there is a wide spectrum in the severity - from mild cases lasting a week or so to cases in which a person suffers from multiple allergies.
"I'm pretty much allergic to everything - indoor and outdoor," said Abigail Kretsinger, a KU junior who takes one allergy pill a day year-round to relieve her symptoms. "It's pretty bad when the air conditioning is not on because then you have to open the windows, and then the pollen from the trees comes in."
Allergy specialists say there are a few small changes people can make to alleviate their suffering.
Turning on the air conditioning and closing the windows helps.
"Central air conditioning has probably done more good for the hay fever sufferer than all of the drugs doctors and pharmaceutical companies have invented," Ransom said.
Choosing the right time of day for outdoor excursions also helps. Heading out in the morning is better than during the midday or afternoon, Stechschulte said, adding that pollen counts also tend to be lower after a rain.
Ransom offered what he called a sensible approach to allergies.
Once the symptoms are recognized as allergy-related, the first step should be to try an over-the-counter antihistamine and see whether it relieves the majority of the symptoms.
If that is inadequate, Ransom said, the next step is to visit an allergy specialist and determine the type of allergy.
Once that's figured out, a person has three choices, he said. Some may be able to avoid the allergen by changing their habits. Some may require the use of a prescription medication to help get through the allergy season, he said. And still others may need to be immunized.
"Immunotherapy, properly prescribed, is extremely effective," Ransom said, "and it is the only treatment for allergy which will permanently eliminate the allergy after you've done it for two, three or possibly four seasons."
Geimer, who was reading through a textbook at the Kansas Union on Tuesday afternoon, said her allergies made it hard to concentrate. She has been treating her allergies with several over-the-counter medicines, but it may be time to visit a doctor, she said.
"I don't like living like this," she said.
Copyright 2018 The Lawrence Journal-World. All rights reserved. This material may not be published, broadcast, rewritten or redistributed. We strive to uphold our values for every story published.