Photo Gallery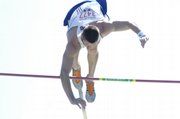 Kansas Relays, Day Four
Before the start of the Saturday's 1,600-meter run at the final day of the Kansas Relays, Lawrence High's Dylan Hedges had a vision.
Hedges' mind didn't take him to the finish line in first place or to a wild celebration with his teammates. Instead, the senior distance runner flashed back to the days when Kansas University legend Jim Ryun competed for KU.
Ryun, one of the Jayhawks' greatest ambassadors of track and field, fired the starting gun for both heats of the boys 1,600 and provided Hedges with a moment he won't soon forget.
"I was kind of nervous all day, and my coach just told me to relax and have fun," Hedges said. "But when I saw Jim Ryun standing there when I stepped to the starting line, I went wild. I thought about him on that line, running the mile in under four minutes when he was my age. It was incredible."
Aided by the rush of adrenaline, Hedges broke out of the pack early and completed the race's first three laps firmly planted in the top five, seemingly a threat to challenge for the title. But heavy legs caught up with him on the final lap, and Hedges dropped to ninth in his heat and 26th overall.
"I kind of got a little crazy and went out too fast," Hedges said. "But I'm glad I did."
Hedges was one of six entries from Lawrence at Saturday's Relays.
Fellow LHS senior Kristina Taylor competed in four races, the most memorable being her sixth-place finish in the 400-meter run.
Lined up next to Alishea Usery, the favorite from McLuer South (Mo.), Taylor tried to block out the lengthy list of pre-race accolades pumped over the loudspeaker, which included a No. 8 national ranking in the 400.
Try as she might, Taylor couldn't manage to do it.
"It's kind of intimidating," she said. "My rankings don't exactly stack up with hers. And I was just thinking about how I didn't want to get too far behind her."
It didn't matter. Usery rolled to the 400 title and set a meet record in the process at 54.61 seconds.
Taylor's time of 58.6 seconds was better than her Friday preliminary time and good enough for sixth place.
Usery's meet record was one of nine high school marks set at this year's Kansas Relays.
Earlier in the day, Taylor paced her sprint medley team (Courtney Barber, Tania Jackson and Jennifer Taylor) to a fifth-place finish in a time of 4:24.18. About an hour after finishing the 400, Taylor paced the Lions' 4X400-meter relay team to a third-place showing (4:09.07) in the Sunflower Showdown.
At the completion of the day's events, an understandably fatigued Kristina Taylor said she was spent.
"I usually run four races per meet, but the intensity here makes it more tiring," she said. "It's a whole different level."
In the only other city action Saturday, the LHS girls two-mile relay team (Jennifer Taylor, Kristina Taylor, Shelby Clark and Kelly Renfro) finished 18th in a time of 10:15.63. In the same race, Free State High's Kyra Kilwein, Libby Wiebe, Jeannie Reams and Katelyn Wyatt took 20th in 10:18.18.
It was the only event for the Firebirds on the day.
Highlights from Saturday's area action included:
¢ Baldwin High's Heather Garcia bounced back from a rough showing in the 3,200-meter run on Friday to place fourth in the 1,600-meter run on Saturday.
¢ De Soto High's Andre Linzy took fifth in the long jump, with a top leap of 21 feet, 7.5 inches.
¢ Mill Valley's Katie Bauer finished 11th in the long jump, with a top leap of 17 feet, 1.5 inches.
Copyright 2018 The Lawrence Journal-World. All rights reserved. This material may not be published, broadcast, rewritten or redistributed. We strive to uphold our values for every story published.