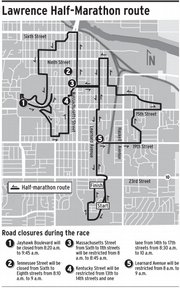 Buses
Free shuttle buses will be available every 15 minutes between 6:15 a.m. and 7:15 a.m. Sunday for runners. They will depart from Kansas University's Park and Ride lot near Clinton Parkway and Crestline Drive. After the race, the shuttles will return runners from Haskell Indian Nations University every 30 minutes between 9 a.m. and 11:30 a.m.
More than 2,000 runners from at least 20 states are expected to hit Lawrence streets Sunday morning to help raise money for people without health insurance.
"We've got just a real mix of first-time people to the really experienced, fast people, which has always been our goal," said Steve Riley, a co-director of the TherapyWorks Lawrence Half Marathon and 5K.
It's the second annual race that showcases Haskell Indian Nations University, east Lawrence, downtown, the Kansas University campus, and the Old West Lawrence and Oread neighborhoods. Last year's race raised about $42,000 for the Health Care Access Clinic, 1920 Moodie Road.
"This year's race is really empowering us to talk about building our capacity to serve even more of the uninsured," said Executive Director Nikki King.
In 2007, the event replaced the former Raintree Run in southwestern Lawrence.
The half marathon begins at 8 a.m. at Haskell's Coffin Sports Complex and ends at Haskell Stadium. Cash prizes will be given to the top three men and women finishers, and other awards will be handed out.
Late registration can be completed at www.lawrencehalfmarathon.com through Saturday. Runners also can register on race day from 6:30 a.m. to 7:30 a.m. at Coffin Sports Complex.
The half marathon course is slightly different from last year; there's one less hill.
"From a runner's standpoint, I think the course changed for the better," Riley said.
Organizers also hope to see more spectators on the course this year, especially downtown, said Marcia Riley, the race's other co-director.
The 5K run begins at 8:05 a.m. at Haskell, and the 1-mile fun run and walk starts at 8:15 a.m. A food fest will follow the races.
Drivers in eastern Lawrence Sunday morning can expect some delays from 8 a.m. to the late morning. The city has agreed to fund an estimated $6,725 for traffic control.
Copyright 2018 The Lawrence Journal-World. All rights reserved. This material may not be published, broadcast, rewritten or redistributed. We strive to uphold our values for every story published.