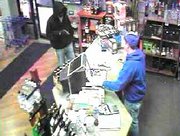 Lawrence police have released a security camera photograph taken last week when a man robbed a liquor store.
Police hope someone will recall seeing the gunman before or after the robbery, which occurred at 9:45 p.m. April 9 at Glass House Liquor Store, 2301 Wakarusa Drive.
The robber wore a mask and gloves and was armed with a handgun. He was dressed in black, including a hooded jacket. He was seen before the robbery walking from the east and afterward he walked toward the east, police said.
Anyone with information that might help police is asked to call detectives at 830-7430 or 843-TIPS.
Copyright 2018 The Lawrence Journal-World. All rights reserved. This material may not be published, broadcast, rewritten or redistributed. We strive to uphold our values for every story published.