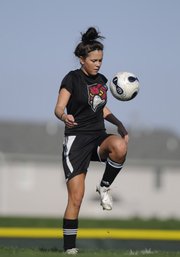 It seems there are a million ways to describe Free State soccer player Leah Williams.
To some she's one of the toughest, grittiest players on the field. To others she's a finesse player, with scary speed and skills.
To her coach she's the greatest player the FSHS girls soccer program has produced to date. To her teammates she's a fantastic friend who's always there with a smile and a laugh.
Throughout her four years with the Firebirds, Williams has been given just about every label in the book. Yet this year she's added what might be the most important tag to her repertoire - team leader.
"Leah's played everything but goalkeeper for us throughout the years," FSHS coach Jason Pendleton said. "It hasn't always been where she's wanted to play, but she's done it without hesitation. Others see that, and that sets the tone for our program, and they learn a lot from her."
Never before has that been more true than this season.
After paying her dues while coming up through the ranks, Williams has been greeted by a unique scenario during her senior year. As one of just three seniors on a team full of freshmen, the Free State forward has been asked to mesh her game - along with her personality - to the talent and tenacity of the freshmen.
"At first, they all came in knowing each other, and (the seniors) were the outcasts and were forced to fit in with the freshmen," Williams said. "That was a little weird. But it's gotten better. Now, I don't look at them as freshmen anymore, I look at them as the main core of our team."
Those words alone show how far Williams has come and how willing she is to defer to others for the good of the team. And, really, they're not all that surprising considering a few years ago Williams was in the same position as so many of her teammates are today: starting on a varsity squad as a freshman.
One of the things that allowed Williams to embrace the situation with such ease was her upbringing. After beginning her soccer career at age five, Williams began playing with an all-boys premier team during junior high school. It wasn't all that difficult. After all, she had grown up with two older brothers and learned early on how to fight for everything she got.
Although her skills enabled her to keep up, the size and speed of the opposite gender eventually took a toll.
"At first it was fine and wasn't all that different, really," she said. "But when we got older, the boys got faster, and I didn't. It became a lot harder to keep up with them, and I lost a lot of self-confidence because of it."
Not to worry. As soon as she rejoined the girls, Williams regained her confidence. And it has served her well ever since.
Today, Williams is the picture of poise on the soccer pitch.
Although both she and her teammates admit that she can let her frustrations run wild in the heat of battle, they've both learned how to react to those moments of intensity.
"I've seen her get frustrated," freshman forward Rachael Hodison said. "You can see it in her face and her tone. But I've learned a lot from her. I've learned where to be on the field, and I've learned that you can't be intimidated. You have to make yourself be heard, and Leah does that. If she has something to say, she makes sure she says it, and you definitely hear it."
That's just another sign of the maturity that has become as much a part of Williams' soccer game as her fierce ball skills or relentless pursuit of perfection.
As the Firebirds approach the midway point of their season, Williams knows a lot rests on her shoulders. But she's content with that. She's up for the challenge and has found serenity in trusting her teammates as much as she trusts herself.
"I'm not usually a very positive person," Williams said. "I don't always have a real positive outlook on things. But it's gotten better. I don't really think of myself as intimidating, but when I'm on the field I'm a very competitive person."
And when she's off the field, she's just like any other 17-year-old high school senior.
"She's got an all-state social life," Pendleton said.
Luckily for the Firebirds, Williams has an all-state soccer game, as well.
Coming off of back-to-back seasons in which she's been named to the Class 6A all-state soccer squad, Williams has shown, yet again, that she's more than capable of adjusting to anything that's thrown her way.
"I'm used to that," she said. "I don't think I've ever played the same position two years in a row, so it's really no big deal."
Maybe not to her. But to everyone else, it means the world.
"Leah's gotten a lot of tough love around here," Pendleton said. "And her reaction has always been to respond to the challenges. She has just enough of an edge to respond to any challenge and to work as hard as she can to prove you wrong."
Copyright 2018 The Lawrence Journal-World. All rights reserved. This material may not be published, broadcast, rewritten or redistributed. We strive to uphold our values for every story published.