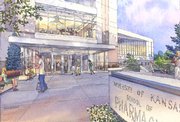 Topeka — Although the Legislature has a lot to do when it reconvenes the session later this month, it finished work on a major priority for Kansas University.
That is funding construction of a new pharmacy school building on KU's West Campus in Lawrence and expansion of the pharmacy building in Wichita.
It was a big ticket item - $50 million - in a tight budget, and pharmacy school Dean Kenneth Audus is appreciative.
"I think they (legislators) recognize the impact of pharmacies on the health care system in Kansas," Audus said. "Pharmacists in the small towns are the first point of contact for many people seeking health care. They're vital to a city's and town's existence," he said.
During the major portion of the session, the funding proposal changed several times and its progress went back and forth, but support for the project never wavered.
National studies show that as the population ages, prescriptions will increase, causing a huge demand for more pharmacists, especially in underserved rural areas.
During House debate on the budget, state Rep. Don Hill, R-Emporia, who is a pharmacist, said, "This is critical that we move ahead on this."
KU admits 105 pharmacy students annually. Once the new building opens and expansion is complete, KU will be able to take in a class of about 190 per year, Audus said.
Gov. Kathleen Sebelius had originally proposed granting authority to issue $50 million in bonds for the project. But lawmakers balked at the proposal and instead funded the project through general tax dollars and projected gaming revenues.
In addition, private funding is on tap to construct a building for pharmacy research that will be in excess of $150 million, officials have said.
Copyright 2018 The Lawrence Journal-World. All rights reserved. This material may not be published, broadcast, rewritten or redistributed. We strive to uphold our values for every story published.