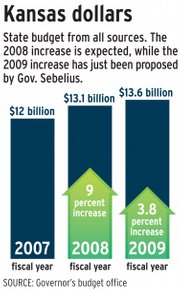 Topeka — Slots for pharmacists?
Before Kansas has received one cent from new gambling revenue, Gov. Kathleen Sebelius proposed on Tuesday spending the funds on a number of initiatives.
Those include expansion of the Kansas University School of Pharmacy, a cost of living increase for public employee retirees, maintenance and repairs on college campuses, and a 2.5 percent state employee pay raise.
"We're expecting the gaming revenue to come in," said Sebelius' budget director Duane Goossen. "That's a strong assumption."
Gambling revenue from slots at pari-mutuel tracks and new casinos was part of Sebelius' proposed $13.6 billion state budget for the fiscal year that starts July 1.
The budget plan by Sebelius, a Democrat, represents a 3.6 percent increase over current spending, a level that falls within stated Republican limits.
"She is recommending a lean budget. It keeps the commitments that have been made and also targets money to some key investments, like early-childhood programs," Goossen said.
But House Speaker Melvin Neufeld, R-Ingalls, said the reliance on gambling revenue was a problem.
Last year, the state approved a law that allows slots and four big-time casinos. But the law has been challenged on constitutional grounds and is expected to be decided by the Kansas Supreme Court.
"If the Supreme Court says it's unconstitutional, then you have a whole bunch of stuff unfunded," Neufeld said.
Under Sebelius' proposal, $1 million would be spent for planning and start-up for expansion of the KU Pharmacy School, and $50 million in bond funds would be used to build a new facility on West Campus. Gambling revenues also would pay off the new facility.
Revenue from gambling also would finance a 1 percent cost of living increase for the Kansas Public Employee Retirement System for the next three years. If enacted, it would be the first cost of living increase for KPERS in 10 years.
Another $15 million would be used from gambling dollars to pay for maintenance and repairs at universities.
Aside from the expected gambling funds, KU also would receive $5 million to continue its efforts to be designated a national cancer care institution.
Overall, higher education would receive a $35 million increase in its operating grant, which is approximately a 3 percent increase.
College-bound students would see a $3 million increase in state scholarships under the plan.
Although a far cry from the $150 million increase sought by higher education, Kansas Board of Regents Chairwoman Christine Downey-Schmidt said the board was pleased with Sebelius' proposal.
"In what many would describe as a lean or constrained budget year, the governor has recommended meaningful investments in higher education that are absolutely essential for enhancing this state's future," she said.
Lynn Bretz, a spokeswoman for KU, said KU executives would be briefed today on the budget.
She said Chancellor Robert Hemenway felt positive about the proposals that Sebelius outlined Monday in her State of the State address.
For public schools, Sebelius finances the final year of a three-year school finance package, but the price tag has gone up.
Once estimated at $122 million, the new figure is $167.6 million because of increases in special education costs. And she added $23 million in grants for early childhood learning programs.
But the start of phasing in full-day kindergarten would have to wait until the 2009-10 school year, under the plan.
Copyright 2018 The Lawrence Journal-World. All rights reserved. This material may not be published, broadcast, rewritten or redistributed. We strive to uphold our values for every story published.