Past parades for the Jayhawks
Photo Gallery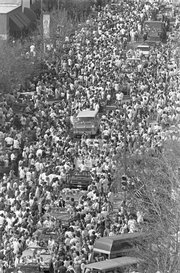 1988 Parade Photos
Past Event
When: Sunday, April 13, 2008, 3 p.m.
Where: Downtown Lawrence, Lawrence
Cost: Free
-->
-->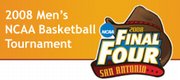 Get your March Madness fix at KUSports.com.
Kansas University's basketball players wore 1988 national championship T-shirts - as well as shorts and shades - while riding in convertibles down Massachusetts Street on a beautiful, balmy spring day two decades ago.
In all, 60,000 fans cheered wildly as NCAA Tournament Most Outstanding Player Danny Manning and the rest of the NCAA titlists and their coaches were honored in a downtown parade.
"It was unbelievable. It was crazy. It was so deep on both sides of the street. People were cheering, running up to the cars to shake hands," recalled former KU power forward Mark Randall, who actually was part of two parades - for the '88 champs and '91 Final Four team -during his KU career.
"It was a special deal driving downtown and seeing people on buildings and the sidewalks cheering every move you make."
Now living in Denver, Randall won't be here for today's 3 p.m. parade for KU's 2008 national champions. He's hoping to check KUSports.com later in the day and learn at least 100,000 folks showed to honor coach Bill Self's champs in dry, 50 degree weather.
"Heck, yeah, those guys deserve it," Randall said of the Jayhawks, who overcame a nine-point deficit in the last 2:12 to defeat Memphis, 75-68 in overtime, in Monday's national title game.
"Obviously, all sports do it at all levels," Randall said of cities holding parades for their heroes. "I think it's a cool way for fans to show their appreciation and excitement. There have to be outlets for fans, too.
"They are part of this. The team represents the university and Lawrence. The guys are also representing the fans who stick by the team. I think a parade is a cool way for fans to connect with players and players to connect with fans. There's limited opportunities for that."
The parade will start at Seventh and Mass. at 3 p.m. sharp. Just like in '88, the players, coaches and managers will ride in 21 convertibles and a flatbed truck. The parade, which also will include the Spirit Squad and pep band, will head south to 19th Street, then west to Naismith Drive.
Following the parade, KU's annual awards ceremony will take place at 6 p.m. at Allen Fieldhouse. The public is invited, with doors opening at 5 p.m.
"I remember after winning the championship it was an absolute blur, numbing," Randall said. "I remember it was crazy for a month after the championship game. You couldn't go anywhere, couldn't do anything without getting praise heaped on you. I remember walking in a restaurant and getting a standing ovation. I've said the word 'spoiled' to describe our fans in the past, but they also are the best."
Randall was reminded of that upon returning to Lawrence in February for the 110-year reunion weekend. He was mobbed for autographs at the Colorado game.
"I sat and signed for 20 minutes. I couldn't get to my seat. Our fans just don't forget," Randall said.
¢ Collins lauded: Chicago Crane Technical High School faculty members praised KU sophomore guard Sherron Collins on Tuesday for "his athleticism and work ethic, traits he demonstrated as a member of Kansas University men's NCAA championship team," the Chicago Methods Reporter newspaper wrote this week.
Windy City native Collins had 11 points and six assists in the title game.
"He was a three-sport athlete," Crane Tech athletic director Bennie Horton told the Reporter. "As a freshman, he was very mature. In fact, he was probably a pro prospect in baseball. He really could do it all."
Ryan Baker, a Chicago sports reporter and former University of Illinois player, told the paper he respected Collins' ability to overcome obstacles.
"Sherron's a fantastic athlete," Baker said. "He comes from an environment that doesn't generate a lot of positive news. It's a very, very tough environment. The way he carries himself and represents Kansas and the West Side of Chicago, that makes me feel good.
"Everybody loves a winner," Baker added "But, those people who are with them through the struggle, and don't have the same opportunities that Sherron had to get a scholarship to Kansas and get exposed to this, those are the people that are saying, 'If Sherron can do it, I can do it.'"
¢ Townsend possible candidate: KU assistant coach Kurtis Townsend has been mentioned as a possible candidate for the vacant University of San Francisco coaching job.
The San Francisco Chronicle lists San Jose native Townsend, as well as Cal State Fullerton coach Bob Burton, Nevada associate head coach David Carter, Cal associate head coach Louis Reynaud and San Diego associate head coach Bill Carr, New Jersey Nets assistant Bill Cartwright and former Golden State Warriors and Sacramento Kings coach Eric Musselman. Other candidates might be out there as well.
"Being from the Bay Area, it would be a dream come true to come back and coach there," Townsend told the Chronicle. He played at Menlo College and also was an assistant at Cal-Berkeley.
The Dons, who were led part of the year by interim Eddie Sutton, went 10-21 last season.
Copyright 2018 The Lawrence Journal-World. All rights reserved. This material may not be published, broadcast, rewritten or redistributed. We strive to uphold our values for every story published.