Past Event
When: Sunday, April 13, 2008, 3 p.m.
Where: Downtown Lawrence, Lawrence
Cost: Free
-->
-->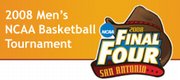 Get your March Madness fix at KUSports.com.
Kansas University's hoops heroes will be joined by the KU pep band and Spirit Squad in riding, marching and cheering down Massachusetts Street for a victory parade at 3 p.m. Sunday.
Anyone and everyone else interested in soaking up the atmosphere of the Jayhawks' national basketball championship will find themselves crowding onto the sidewalks and side streets of downtown Lawrence for yet another chance to say thanks.
"I can't think of a better way to cap the season," said Jim Marchiony, an associate athletics director.
The parade route - at least for now - will stretch from Seventh Street to the north side of South Park, lining up a little more than a half-mile of happiness for connecting the NCAA champions with their faithful fans.
But Sgt. Paul Fellers, a Lawrence police spokesman, said that the ending point for the parade remained "under consideration" as of Thursday evening. There is talk of extending the length of the parade.
"The parade route is not set in stone as of yet," Fellers said.
No matter where the parade ends, folks with Kansas Athletics Inc. are making plans for a joyful celebration.
"The reason I came to Kansas was to be involved in an event like this," said Marchiony, who has been working on plans for the parade and other recognition events in the wake of KU's 75-68 overtime victory over Memphis in Monday's title game. "I'm just glad it's here, and our fans are glad it's here. We're just looking forward to a great day."
The parade is scheduled 20 years to the day after another parade - one complete with floats, community groups and, yes, even a real Cinderella from Disneyland - traveled south on downtown's main street to celebrate KU's first NCAA title in 36 years.
But on parade day back in 1988, the featured attraction still was the team: Danny and the Miracles, the Danny Manning-led squad that rolled through the tournament as an underdog to win the title against Oklahoma, 83-79, at Kemper Arena in Kansas City, Mo.
This Sunday, Manning should be back on Massachusetts once again, only this time drawing cheers as a KU assistant coach. Manning and other coaches, players, managers and others affiliated with the team will be lined up to ride in convertibles; members of the pep band and Spirit Squad also are scheduled to participate.
Once the parade ends - wherever that ends up being - the players, coaches and others affiliated with the team are scheduled to attend a 6 p.m. awards ceremony at Allen Fieldhouse.
The fieldhouse ceremony is open to the public, Marchiony said. Doors will open there at 5 p.m.
Fellers, the police spokesman, said that the public parking lot south of the Judicial and Law Enforcement Center, 111 E. 11th St., would be closed to the public. All of the other more than 2,500 public parking spaces in downtown Lawrence - and including those lining Massachusetts Street - will be open and available for people on a first-come, first-served basis.
Fellers' advice: show up early.
"Folks can't just come down at the last minute," he said.
And unlike the party atmosphere that filled downtown Lawrence on Monday night - an estimated 40,000 people crowding the streets, many with plastic cups filled with beer - Sunday's parade will be conducted with different guidance from police.
The parade, Fellers said, would be conducted much like a traditional Band Day parade. Translation: Expect more of a family atmosphere.
"Alcohol is not allowed on the sidewalks or streets," Fellers said. "It's meant to be a parade to recognize the accomplishments of the team and coach Bill Self. If somebody has an idea that they're going to have alcohol and drink it during the parade, that's not something that's going to be allowed."
Copyright 2018 The Lawrence Journal-World. All rights reserved. This material may not be published, broadcast, rewritten or redistributed. We strive to uphold our values for every story published.