Press Conferences & Post-Game Interviews
Bill Self's April 10 press conference
KU coach Bill Self met with the media Thursday afternoon, flanked by athletic director Lew Perkins and Chancellor Robert Hemenway, to announce his intentions to remain as the Jayhawks' head coach for years to come.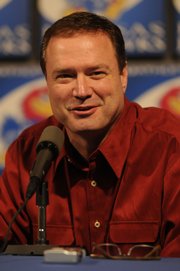 Kansas University men's basketball coach Bill Self officially announced at a news conference Thursday afternoon in Hadl Auditorium his intentions to remain with the Jayhawks.
Self was flanked by athletic director Lew Perkins and chancellor Robert Hemenway. Perkins said the details of Self's extension have yet to be hammered out, but an agreement has been made in principle.
"Today is not the day to talk about details," Perkins said. "Bill and I have agreed in principle that he will be our coach for years to come.
"He represents us with class, on and off the court, and I can't think of another coach I'd rather be sitting next to today."
Self said he visited with Oklahoma State and athletic director Mike Holder, but never had intentions of leaving.
"There was never serious interest on our part of leaving the University of Kansas, but there was serious interest in listening and hopefully helping Oklahoma State put their basketball position in the position they want it to be in," Self said. "We met, and (Holder) did an unbelievable job of striking the right chords and everything, and he did it in a way that provoked thought on why that would be a great fit for me and my family at this time. It wasn't done in a way many of you imagined it being done."
Self said Holder and OSU brought up the ideas of coming home, leading the Cowboys' program through a transition and taking it to heights the program hadn't seen in quite some time.
Coming home, leading program through transition, go to heights it hasn't seen in awhile
With details of Self's new deal still not finalized, he did say it's 'fair to say' he will get a nice raise and extension.
"The time is right for me and my family to be in Lawrence, Kansas, and hopefully lead this program to bigger and better things in the future," Self added.
Added Hemenway: ""Bill Self is exactly the right person for Kansas basketball, and w're delighted that he'll lead our basketball program for years to come."
For more on this story, including audio and video from the press conference and further reactions, stay tuned to KUSports.com and read Friday's Journal-World.
-----------------------
Bill Self just said in a brief phone conversation with the Journal-World that he is staying at Kansas. Details will be revealed at a 4:30 p.m. press conference.
-----------------------
The Kansas University athletics department just announced that it will hold a 4:30 p.m. press conference regarding its men's basketball program.
The press conference is believed to be addressing the future of coach Bill Self. Three microphones have been set up at the table in the auditorium. The press conference will air live on Sunflower Broadband channel 6.
Self met with athletic director Lew Perkins earlier this afternoon, and is known to still be in the building.
For more on this story as it develops, including live updates, audio and video from the press conference, stay tuned to KUSports.com.
Copyright 2018 The Lawrence Journal-World. All rights reserved. This material may not be published, broadcast, rewritten or redistributed. We strive to uphold our values for every story published.