NCAA Champion Jayhawks return
6News Championship Celebration
Photo Gallery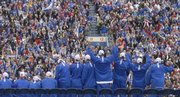 Jayhawks return
San Antonio — The immediate future of Kansas University basketball looks rather rosy ... provided billionaire booster T. Boone Pickens fails in his attempt to lure Bill Self to Oklahoma State.
"We've signed five really good players, better than anybody thinks they are, which is pretty unusual at Kansas where the people we recruit are portrayed (by media) as the greatest thing ever," fifth-year KU coach Self said Tuesday, referring to twins Marcus and Markieff Morris, Quintrell Thomas, Travis Releford and Mario Little.
"We've also received a commitment from a sixth (Tyrone Appleton) and are recruiting another (unnamed player). I think we'll be really good no matter what, but it'll be a different-looking team."
KU loses scholarship seniors in Jeremy Case, Sasha Kaun, Darnell Jackson, Russell Robinson and Rodrick Stewart.
As far as the underclassmen ... sources close to the program believe junior Brandon Rush and sophomore Darrell Arthur, two members of the Div. I championship all-tournament team, will declare for the draft, while Mario Chalmers has yet to finalize a decision.
As most outstanding player of the Final Four, Chalmers automatically qualifies to have his jersey hung in the rafters of Allen Fieldhouse and just may find out he's increased his draft stock in the eyes of scouts.
Sophomore Sherron Collins, sources close to the program indicate, figures to return.
"We anticipate (losing) two, maybe a third," Self said of Rush and Arthur with Chalmers the third. Collins figures to benefit greatly from being the lead guard next year, provided Self is still the coach.
As far as Self ... he reiterates he will talk to Oklahoma State AD Mike Holder and/or Pickens if they call him.
Yet his fervent wish appears to be returning for a sixth year as KU coach if he can get an extension worked out with athletic director Lew Perkins.
Self has three years remaining on his contract that pays him $1.375 million per year. Pickens reportedly is offering a $6 million signing bonus and up to $4 million a year for 10 years.
"I would say positively I'm not interested ... I could say that in the next few days if I meet with my administration," Self said of athletic director Lew Perkins and chancellor Robert Hemenway.
"I've not met with 'em. Lew said we'd do it when the season is over. The season is over now. I'm sure it'll happen in the next couple days. "Out of fairness to Lew, why with my contract situation would I say I'm positively doing this (returning) if I don't even know if they will extend me?
"I have three years left on my contract. What I'd like to have is what anybody likes to have ... some security. When I say security I say years."
Some big-time coaches, like North Carolina's Roy Williams, prefer rollover contracts - contracts for up to five years that "roll over" or extend by a year every year, thus being a perpetual five-year deal. Others prefer the security of six to 10-year contracts with no rollover involved.
"I'm not looking for anything more than Kansas provides on a daily basis," Self said, adding, "I've got the best job. Tradition, history ... I love the people I work with. It's a great place to recruit. My family is happy."
Self, said Tuesday he'd never met OSU benefactor Pickens - "I didn't know he was the AD," he cracked - but is friends with current OSU AD Mike Holder, golf coach when Self worked as an assistant hoops coach at the school.
"On the outside looking in, they have great resources," Self said, drawing laughs from media who realize Pickens has money to burn.
"They've been to two Final Fours in 10 years. I know first hand if you get here (Final Four) and play well over a weekend, you might catch lightning in a bottle. They've won two national championships. There is tradition and history there. I do know the AD. There is not message being sent (by Self to Holder)."
Perkins doesn't need any messages sent his way. He and Self are friends who speak often.
"If you guys have followed us at all, you know my relationship with Lew is very good," Self said. "When the Oklahoma State job popped, the first thing I did is talked to Lew. He said, 'What do you want to do?' I said we do what we said we'd do all along, the same game plan, talk after the season because if I worried about my situation before the season was over it could be a distraction."
¢ Deep pockets not so deep?: OSU athletic director Holder told the Tulsa World on Tuesday that any financial information circulating in the media about a contract for Self is "pure speculation with no credibility."
¢ Myers interview: Self not only spoke at the Alamodome Tuesday, but to Chris Myers of FoxSports radio.
"I'm sure it will play out in a very favorable way for me to remain here in the next three or four days, I hope," Self said.
¢ More on draft: It should be noted no Jayhawks have officially made their intentions known about the draft.
This year, it is believed they will go through their coach to announce the news after Rush announced it on his own last year.
Rush said Monday he would "take some time off" and announce within two weeks or by the April 27 deadline.
Draftexpress.com indicates Rush will be tapped No. 23 in the first round by the Utah Jazz and Rush 25th by Seattle's SuperSonics. The Website has Chalmers the first pick of the second round of the 2009 draft. Yet the Website last was updated on Sunday, before his game-tying three versus Memphis. NBAdraft.net has Rush being tapped No. 17 by Philadelphia, Arthur No. 19 by Cleveland and Chalmers No. 26 by Memphis.
Self, who does not put stock into online drafts, does seek information from NBA personnel for his players.
"If that happens," Self said of college players turning pro, "it should be because it's the best thing for their families. I hope before they make a decision they will get reliable information.
"Because of agents, runners, people in their ears there are 90 guaranteed first-round picks (in draft). If I am not mistaken, there are only 30 picks (in first round). If they would just exercise good judgment, take their time, take a deep breath, I personally don't know why anybody would leave the situation they have unless they don't like the coach, unless they were close to being guaranteed (first round). A lot of second-rounders don't get a sniff at playing in the league."
¢ NBA may call someday: Self is not sure he ever wants to be a head coach in the NBA.
"My mentality ... I don't know if I would be a good fit for that. There have been three things happen this year (that made him realize how much he loves college). The 110 year reunion was unbelievable - far better than I ever thought it'd be - and our Senior Night this year was just different and of course winning the national championship. I don't know if I can get that at the other level."
¢ Recruiting: Tyshawn Taylor, a 6-3 senior from St. Anthony High in Jersey City, N.J., has asked out of his letter of intent from Marquette. Taylor, however, according to recruiting analyst Adam Zagoria, will meet with new Marquette coach Buzz Williams on Friday. Zagoria says KU, Florida, Texas, Michigan, Virginia, Georgia Tech, Virginia Tech, St. Joe's and Houston are possibilities for Taylor.
Copyright 2017 The Lawrence Journal-World. All rights reserved. This material may not be published, broadcast, rewritten or redistributed. We strive to uphold our values for every story published.