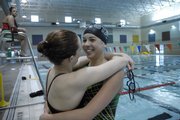 Senior Night was a battle for the Free State High girls swimming and diving team Tuesday at the Lawrence Indoor Aquatic Center.
Not only did the Firebirds have Sunflower League foes Shawnee Mission Northwest and Shawnee Mission South to fight off, but they also had cross-town rival Lawrence High looking to put a damper on their final home quad.
But thanks to a pair of early wins and consistent finishes in the closing events, it was a fond farewell for Free State seniors Amanda Bari, Bailey Carlson, Sarah Robinson, Alex Schriner, Katie Sloan and Brittanie Williams.
"I think the girls coming out fast made it so that the other girls were motivated to follow suit - and they were," said FSHS coach Annette McDonald, whose squad won with 399 points - 32 points ahead of LHS in second place. "It's pretty exciting to have our home meet here, honor our seniors who really contribute to the team in terms of leadership and swimming."
Free State sophomore Morgan Flannigan started off strong for the home team. Flannigan swam anchor on the winning 200 medley relay team to open up the meet, then won the following event - 200 freestyle - by 10 seconds.
Flannigan also dominated the competition in the 500 freestyle. She finished 33 seconds ahead of teammate Adriane Black's second-place time of 5:41.98.
"I like just going out on my own and trying to set my own pace," Flannigan said. "That's part of the reason why I keep trying to push myself when I'm out kind of by myself because I know later on, like at league and state, I will have a lot of competition and it will be a lot harder."
Flannigan's teammates on the 200 medley relay team consisted of Sloan along with freshmen Chloe Portela and Reilly Moore.
Sloan was the victor in one of the closest events of the quad - the 100 butterfly. The difference between the top-three finishers was 0.67 seconds. Her time of 1:03.90 edged out FSHS freshman Kara Mishler's 1:04.01 and LHS sophomore Elle Weber's time of 1:04.57.
Weber, one of just two LHS swimmers to win an individual event, had a reversal of fortune later in the meet with the 100 breaststroke. Weber held off Moore to claim first place with a time of 1:11.32 - a mere 01.27 ahead of Moore.
"Reilly is one of my good friends, so it was kind of an intense race," Weber said.
Lawrence freshman Sarah Schwartz won the 100 backstroke with a time of 1:04.12 - just ahead of teammate Rachel Buchner's 1:06.37 - as the only other LHS swimmer to win as an individual.
The Lions did take the one-meter dive with yet another strong performance from senior diver Mallory West, who won with a score of 231.50 - 41.8 points ahead of second place.
"We count on diving being one of our best events because we also have (Anne) Glasker and she got us some good points too," LHS coach Kent McDonald said. "And we need it all."
Lawrence finished the meet strong with a first place time of 3:55.43 in the 400 freestyle relay behind Schwartz, Weber, sophomore Jessica Boyer and junior Erina Houk.
Copyright 2018 The Lawrence Journal-World. All rights reserved. This material may not be published, broadcast, rewritten or redistributed. We strive to uphold our values for every story published.