2008 NCAA Tournament
Press Conferences & Post-Game Interviews
Bill Self's April 1 pre-Final Four press conference
KU coach Bill Self met with the media in Hadl Auditorium Tuesday to discuss the upcoming Final Four, in which his team is part of history, with all four one-seeds having advanced to San Antonio. Self talked in-depth about gameplanning for North Carolina, plus again denied rumors that he will leave Kansas the end of the year to take over at his alma mater for Sean Sutton, who resigned earlier in the day as the Oklahoma State men's basketball coach.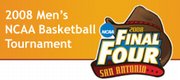 Get your March Madness fix at KUSports.com.
In at least one way, North Carolina basketball coach Roy Williams continues to pursue one of his earliest teams.
The Tar Heels, especially with Williams in charge the last five years, have featured a ridiculously fast-paced offense that has proven overwhelming to many opponents.
Yet Williams was quick to point out at his Tuesday news conference that he's still chasing a mark he established early in his career.
"The team that was the highest-scoring team I ever coached was the 1990 Kansas team that averaged 92 a game my second year," Williams said. "That team didn't play as fast as we play right now. But that team was unbelievably efficient."
This year's North Carolina team averages 89.2 points per game heading into Saturday's highly anticipated Final Four showdown against Kansas. It's the highest-scoring team Williams has had at UNC, but still falls below his Kansas squads in 1989-90 (92.1) and 2001-02 (90.9).
Expect Williams to continue gunning for those marks as long as he's coaching. An epiphany may have came in 2002, when his backcourt of Aaron Miles, Kirk Hinrich and Jeff Boschee helped the Jayhawks to the Final Four.
"Three point guards in the starting lineup," Williams said. "It evolved to, 'Hey, this is the way I really like to coach. This is the way I like to see my teams play.'"
North Carolina (36-2) now runs faster than ever, thanks largely to the blurring speed of sophomore point guard Ty Lawson. A 5-foot-10 sophomore out of Clinton, Md., Lawson orchestrates the madness and has put up 12.8 points and 5.3 assists per game in 31 contests. He missed seven games with an ankle injury.
Lawson is exactly the type of floor general Williams seeks now. It wasn't always that way.
"When I recruited Adonis Jordan, my first recruit, it wasn't me saying, 'Boy he's going to be great at running up somebody's back.'" Williams said. "When I recruited Ty Lawson, that's what I said: 'This guy is going to be miserable for some defense because he's going to run up their back.'
": It evolved over that time. There is a more concerted effort now from myself, me and my staff both."
Remarkably, Williams' latest teams still chase the 1990 edition led by Kevin Pritchard that beat Kentucky, 150-95, and Iowa State, 118-75. Six players from that team averaged more than 8.5 points per game.
"What we had with that team was guys who could run," Williams said, "but we didn't run at the pace that we ran later in our time at Kansas or now (at UNC)."
¢Out of patience: Williams was asked again Tuesday about the drama of playing Kansas, the school he coached from 1988-2003.
Specifically, is he worried it will be a distraction leading into Saturday's game?
"I don't think my team will get distracted from it, and I'm getting very close to putting an end to it right now," Williams said. "It's not the story. The story is Kansas and their great program and their great team in 2008, and North Carolina and their great program and their team in 2008."
North Carolina standout Tyler Hansbrough confirmed what some have concluded: The storyline is between Williams, the KU fans and the media.
"For me as a player, it's not much more than just a big-time game," Hansbrough said. "I have no connection to Kansas."
Williams addressed a few questions about it during Tuesday's news conference. He can expect many more as the week progresses, whether he likes it or not.
"It's taking up a lot of time right now, but you guys got to touch all the bases," Williams said. "Some people want to hear about that more than I think they should."
Copyright 2018 The Lawrence Journal-World. All rights reserved. This material may not be published, broadcast, rewritten or redistributed. We strive to uphold our values for every story published.