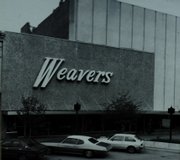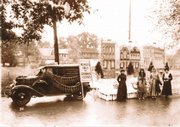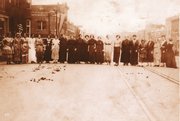 Photo Gallery
Leaders of Weaver's Department Store, through the years
Three charities to Share in celebration
In honor of Weaver's 150th anniversary, the store will be making donations to three area charities:
¢ Meals on Wheels
¢ Douglas County Child Development Association
¢ Women's Transitional Care Services
Weaver's will donate 10 percent of the purchase price of all items sold through Oct. 8 to the organization of each customer's choice. All the customer needs to do is tell the cashier, and the donation will be made.
"Lawrence has been good to us," said Joe Flannery, store president. "We want to give something back."
Having survived the immediacy of Internet retailing, the expansion of Wal-Mart, the emergence of shopping malls, the depths of the Great Depression and the limitations of a rope-and-pulley system for carting merchandise, money and paperwork to and from a central cashier, Weaver's Department Store is ready to move on.
To its next 150 years.
"It never gets easy," said Joe Flannery, president of the store that's been a Massachusetts Street fixture since 1857, a year before Macy's opened in New York. "We're competitive. If we weren't competitive, and we didn't have great people, we wouldn't be here."
Such steadfast commitment and an optimistic outlook have carried the retailer ever since Lathrop Bullene opened his dry goods shop in the fall of 1857 in the 700 block of Massachusetts Street.
The approach certainly has come in handy:
¢ In 1863, the original Bullene and Read store was destroyed by fire during Quantrill's Raid.
¢ In 1917, a coal shortage forced the new location, at 741 Mass., to go a few days without heat.
¢ In 1980, a broken water main sent water cascading into the basement at 901 Mass., dousing merchandise and submerging business records in water up to six feet deep.
But such challenges couldn't keep Flannery or his predecessors from persevering, prospering and planning for bright futures. Bullene expanded the store; A.D. Weaver bought out his competitor, and moved into his building at Ninth and Massachusetts. Larry Flannery Sr. - Joe's dad - put together a corporation to carry on Weaver's work.
Today, Joe Flannery continues to track matters large and small. He's active in buying groups that give the store buying power otherwise reserved for national chains.
He also is talking about updating the store's logo to add an apostrophe to "Weavers" - an effort to formalize the Weaver's version he's been using for years - although financial priorities might keep him from changing the storefront for a while.
'Up to the challenge'
Such are the responsibilities of a store manager, whether it's 1857 or 2007.
"I'd say it's always challenging, but not to the extent that we don't think we'll be up to the challenge," Flannery said.
That Weaver's is an independent retailer isn't all that unusual, as half of all retail businesses in the U.S. are independents, said Daniel Butler, vice president for merchandising and retail operations for the National Retail Federation, a trade group.
That Weaver's continues as an independent department store is a bit more unusual, considering that many such independent stores and regional operations have been bought out by larger chains and national companies.
That Weaver's has endured for 150 years as an independent department store - on the same street, in the same town and under family ownership that traces back to the store's founder - puts the business in fairly select company.
"The oldest retailer on the North American continent is the Hudson Bay Company, which is a department store in Canada that is well over 300 years old," Butler said. "But it's always an accomplishment when someone hits a major milestone like 50, 75, 100, 150 or 200 years.
"It certainly speaks to the fact that there's been a tradition of customer service there. They've known how to serve the customers in the market where they live and they - as a family and as a set of families or companies over the years - have been able to really change with the market and evolve with the ever-changing retail market, which changes more now than ever before, and at a faster rate."
Old-time charm
While the store continues efforts to keep up with stocking national brands, tracking customer preferences and competing with competitors' prices, there are touches that remain uniquely Weaver's.
One example: Complimentary gift-wrapping in the housewares department downstairs puts dozens of people to work during the holidays, a tradition of controlled frenzy that just might be challenged only by Santa's Workshop on Christmas Eve.
Another: Pay cash in the men's shop, and your money and a handwritten receipt will get sucked upstairs to the business office through a pneumatic tube - whomp! - hailed as "state-of-the-art" upon installation in 1935.
"I like to say: After a certain period of time things become obsolete, but if you wait a little bit longer they become cool," said Earl Reineman, the store's vice president. "And the pneumatic tubes are really cool."
Marlene Eckel certainly appreciates the atmosphere. She and her sister, Kathleen Sinn, recall shopping at independent department stores throughout their childhood.
After moving around the country for decades - to Michigan, Ohio (twice), Virginia, Florida (twice), Washington, D.C., Phoenix and now Mississippi - Eckel last week made a special trip to Weaver's to reminisce.
And reconnect with something lost during the emergence of megamalls, national chains and Internet retailing.
"These are the kinds of things you don't see at a chain store," the retiree said, browsing in the shoe section and finding some unexpected brands and values. "This is the kind of store we grew up with, back in the day when we used to have fun shopping. Now we're trying to have fun again."
Flannery, Reineman and the rest of their company's 18 shareholders don't plan on the fun coming to an end anytime soon.
"The day after our anniversary celebration is over, we're going to sit down and plan our 200th right then," Reineman said. "By the time it gets here we'll be ready."
Copyright 2018 The Lawrence Journal-World. All rights reserved. This material may not be published, broadcast, rewritten or redistributed. We strive to uphold our values for every story published.