Photo Gallery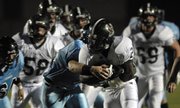 Free State vs. SM East
Overland Park — Bob Lisher may be the only football coach Free State High has ever had, but he's also a Lawrence High graduate, and his roots were showing Friday night.
Lisher ordered a Lawrence High-like grind-it-out running game against Shawnee Mission East, and Ground Lisher helped the Firebirds spoil the Lancers' homecoming, 42-14.
"We wanted to let the offensive line find out where they are," Lisher said, "because (SM East) had some big guys out there."
After the Firebirds had run for 243 yards and rushed for five touchdowns, the verdict was in at SM North District Stadium.
"It's hard to single out anyone on the line without looking at the tapes," Lisher said, "but as a whole we had to do well up front, and we did, except for the penalties."
Free State (3-2) was flagged just six times, but four were for holding, and another was for an illegal block. One of those holds wiped out a spectacular direction-changing, tackle-breaking 44-yard touchdown romp by quarterback Craig Rosenstengle.
As it was, Rosenstengle ran for 71 yards on 12 carries, scoring twice on short runs. Ryder Werts added 40 yards on seven carries, but Chucky Hunter was the bread-and-butter back.
Hunter, a 5-foot-9, 185-pound junior, carried 25 times - a career high - and ground out 128 tough yards. Hunter uncorked one run of 24 yards, but his other two dozen carries were for single-digit yardage, including three for touchdowns.
"All week in practice we'd been running the ball," Hunter said, "so I wasn't surprised to carry that much."
For good measure, the Firebirds added one score through the air. Just before halftime, Rosenstengle spotted Camren Torneden, a 5-6, 150-pound waterbug, streaking down the left sideline, hit him in stride and the sophomore speedster raced untouched into the end zone to give the 'Birds a 28-7 bulge at the break.
Curiously, that was one of only three passes Rosenstengle completed all night. However, a couple of his seven incompletions were dropped, including one by Shaun James, who had a five-yard lead on his defender while speeding downfield in the third quarter.
Yet Free State was so dominant on the ground that the dropped passes and the holding penalties were moot.
Meanwhile, Free State's defense held the Lancers (1-3) to just 32 rushing yards, thanks largely to three sacks of Miller - two by Scott Williams - that gave SM East 32 negative yards. Also, the Firebirds intercepted Miller three times.
Outside linebacker Zack Toelkes had the first theft, and it was critical because it occurred in the first quarter with the score knotted at 7-7 and gave the Firebirds a short field. They didn't waste the opportunity, scoring quickly to take a 14-7 lead and shift the momentum.
Toelkes, a 5-11, 195-pound senior, picked off the pass while making a headlong dive.
"It was close to the ground," Toelkes said, "but I was able to keep my arms under it."
Despite his sparkling defensive play, Toelkes believed the Firebirds' first scoring drive - a 13-play, seven-plus minutes march after the Lancers had taken a 7-0 lead - was more important than his interception.
"That drive got our momentum going," Toelkes said, "and dampened their spirits."
Of the 13 plays on the Firebirds' opening drive, not surprisingly 12 were on the ground.
"Chucky ran very well, Ryder ran hard and so did Rosey," Lisher said. "Those guys are all tough to stop when they're running like they were tonight."
Next for Free State will be Shawnee Mission West, the team that handed the Firebirds their only loss last season. That game will be Thursday night at SM South District Stadium.
"We didn't look past (SM) East one bit tonight," Toelkes said. "Now that's over, and we need to get ready for (SM) West."
Copyright 2017 The Lawrence Journal-World. All rights reserved. This material may not be published, broadcast, rewritten or redistributed. We strive to uphold our values for every story published.