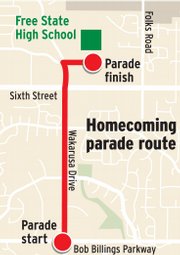 Free State High School is celebrating its homecoming this week, culminating with a parade Friday afternoon and king and queen crowning at the football game.
The parade will begin at 2:40 p.m., and participants will line up at Kansas University's Life Sciences Research Laboratory near Bob Billings Parkway and Wakarusa Drive, said Lisa Boyd, a Free State assistant principal.
The Firebird band will lead the parade as it proceeds in the northbound lanes of Wakarusa Drive to the high school's parking lot. Homecoming king and queen candidates will follow, as will class and club floats.
The northbound lanes of Wakarusa Drive will be blocked off for the parade; the southbound lanes will stay open, said Sgt. Paul Fellers, a Lawrence police spokesman.
Because of crowds, he said southbound traffic will be slowed during the parade, which typically lasts 30 to 45 minutes.
The crowning of the king and queen will occur during halftime of the 7 p.m. football game against Olathe North at Haskell Stadium. The homecoming dance will be at 8 p.m. to 11 p.m. Saturday at the high school, 4700 Overland Drive.
Copyright 2018 The Lawrence Journal-World. All rights reserved. This material may not be published, broadcast, rewritten or redistributed. We strive to uphold our values for every story published.