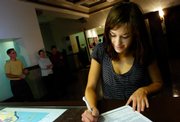 Since she was a little girl, Cori Allen has waited for her 18th birthday.
Not for the freedom or the fun, but for the opportunity to vote.
"It's like the biggest moment of my life thus far," Allen said Tuesday, her birthday. "I think it's the most important thing you can do once you're 18."
With friends and family gathered around at Douglas County Courthouse, Allen marched up to the counter Tuesday and filled out the form. A simple move, but one filled with meaning and importance for the teen.
It might seem like an unusual way to celebrate the day, but friends and family say they aren't surprised.
Allen and friend Kate Falkenstien started a young Democrats club at Free State High School. They sold T-shirts to raise funds for the state Democratic Party. Allen also worked on Nancy Boyda's congressional campaign.
The Free State senior is a straight-A student with her eyes on attending the University of Pennsylvania's Wharton School of Business next fall.
"It's a unique celebration," said Falkenstien, who helped celebrate at the courthouse Tuesday. "I think it's fitting for Cori. This is what she's interested in."
Douglas County Clerk Jamie Shew said every once in a while there is a young person like Allen who is eager to register.
"It's probably not as common as I'd like," he said. "Everybody's excited to get their driver's license. What can we do to make it so that you're excited to be able to vote?"
On the eve of the 2006 midterm election, nearly 15,000 Douglas County residents ages 18 to 24 were registered to vote. They made up about 19 percent of all registered voters.
Shew says such figures likely are higher for Douglas County than other areas because it's a college town where students often organize registration drives.
Nationally, the voter turnout rate was 25.5 percent for the midterm election - up 3 percentage points from the 2002 midterm, according to the Maryland-based Center for Information & Research on Civic Learning & Engagement.
Shew said presidential elections and some gubernatorial races often attract the youth vote more than local races.
And although Allen hasn't settled on a presidential candidate, she's excited about the election.
Allen knows her birthday dream is a bit unique, but she doesn't think she's alone in her eagerness to participate in the political process.
"I don't think many people are as excited as I am to go register to vote on their 18 birthday - the very moment they possibly can," she said. "I think a lot of kids at our school are very conscious and they vote or register to vote as soon as they remember to or as soon as they get the time."
Copyright 2018 The Lawrence Journal-World. All rights reserved. This material may not be published, broadcast, rewritten or redistributed. We strive to uphold our values for every story published.