Photo Gallery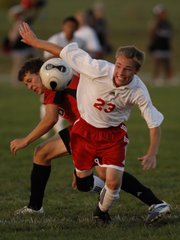 LHS soccer vs. BV West
Well, at least Lawrence High's boys soccer team finally scored its elusive next goal.
That was about the only silver lining in an otherwise dismal 7-1 loss against Blue Valley West on Monday night at Youth Sports, Inc.
Credit sweeper Rex Hargis' free kick from midfield, which bounded off Jaguars goalkeeper Jon Kendrick's hands. And credit midfielder Dar Fornelli, who buried the ricochet in the 57th minute into the net and with it put to bed a 402-minute scoreless streak spanning five games.
"I guess it lifted their spirits that we were able to end the drought and get a goal," Lions head coach Bill Kelly said. "But we still have so many areas that we have to concentrate on, we just didn't keep it up. So, the goal felt good, but it didn't do anything to raise our level of play."
Indeed, Fornelli's goal came after the Lions already trailed 3-0 at halftime. And the high didn't last long.
BV West's Tanner Nebbia chipped a shot over LHS goalkeeper Sean Simmons just one minute later to extend its lead to 4-1. Three more goals followed, including Nebbia's second score - a header as time expired in the 80th minute.
"I think after Dar got that goal, everybody picked up their intensity," forward Vienny Phiomavong said, "but after they scored again, it just dropped."
Fornelli agreed, saying the team simply couldn't sustain the momentum long enough.
"At halftime, we talked about playing like we did in our first game, having that intensity. I think we did until they got their first goal, and then we just kind of gave up again."
The Jaguars (5-1) got the scoring started in the second minute on Andy Lynn's rebound of a free kick in the penalty box. Leo Bassi and Michael Shea each added goals before the half, and Lynn scored a second time in the 75th minute.
All this without leading scorer Brett Woverton, who scored six goals in five games but sat out Monday's contest.
Lawrence (1-5) won't have long to dwell on the loss, either. The Lions play two more home games this week, including tonight's game against Shawnee Mission Northwest.
Kelly said he doesn't anticipate any lingering dejection from the Lions' worst defeat of the season in the upcoming games.
"I shouldn't have to say a whole bunch," he said. "I think they need to take care of business themselves. I can be the focal point, but the rest is on them."
Copyright 2018 The Lawrence Journal-World. All rights reserved. This material may not be published, broadcast, rewritten or redistributed. We strive to uphold our values for every story published.