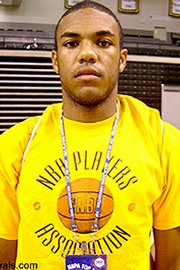 Now that C.J. Henry has completed his third season in professional baseball, he has a crucial decision to make.
Should the free-agent outfielder, who hit .184 with nine home runs and 38 RBIs for the Philadelphia Phillies' Class A Lakewood (N.J.) BlueClaws this past season, sign a free-agent contract with another major-league baseball organization or scrap baseball altogether and play college basketball?
"People don't realize how big a decision this is. It's your life : your career. I'm going to take my time with it," said Henry, who orally committed to Kansas University to play hoops after his senior season at Putnam City (Okla.) High.
He's back in Oklahoma now after asking for his release from the Phils' organization and contemplating making a basketball recruiting visit to the University of Texas this weekend.
Henry, the son of former KU guard/forward Carl Henry and brother of blue-chip high school junior recruit Xavier, on Monday night indicated his list of college possibilities are the schools who have contacted him recently: KU, Texas, North Carolina, Kentucky and Memphis.
"I am undecided. I'm weighing my options now," Henry said, referring to choosing sports, not schools. "I still have the heart for baseball and want to play. I have another dream, too (basketball)."
Henry, who was a first-round draft pick of the New York Yankees in 2005, still has options if he chooses to play baseball. He said the Yankees, Oakland A's and Baltimore Orioles all have spoken to his agent.
"It was weird, the whole year I needed glasses. The last month with contacts, I hit .300. It was an unfortunate deal I didn't get them sooner," Henry said.
Now he must decide if he showed enough promise in baseball to continue on : or perhaps enroll at a university like KU as early as second semester of this school year.
It's stipulated in his original Yankee contract that major-league baseball must pay for his education.
"I'd be a walk-on," Henry said, noting he has not forgotten how to play basketball. "I've been playing around. The only thing not there is my legs."
He said it's not necessary he go to the same school as brother Xavier, though that's a distinct possibility. Xavier, who like C.J. has been to Lawrence many times, has KU, Carolina, Memphis, Texas, Louisville and Ohio State on his list.
"I'd like to play against him as much as with him," C.J. said with a laugh. "Where he chooses may not be the best place for me, and where I choose might not be the best for him."
He said KU, of course, remains high on his list.
"I don't know if I'll visit there or not. I've been to Kansas so many times I pretty much know what Kansas is like," Henry said.
He said he'd likely tag along with his brother on his Midnight Madness trip to Memphis.
"I don't even know when Late Night is," C.J. said, noting his baseball season ended just a week ago. "I have no timetable. I just have a lot of things to consider."
He said one thing is certain - he won't play both sports. It will be baseball or college basketball in his immediate future.
"It's 365 days," he said of the time he has committed to baseball. "It takes a toll on your body. It was hard to do both in high school."
¢ Taylor reschedules Tech trip: Tyshawn Taylor, a 6-foot-3 senior guard from St. Anthony High in Jersey City, N.J., tells Rivals.com he did not visit Virginia Tech last weekend because of a death in his family. He has rescheduled the trip for Sept. 28 and will visit Virginia on Oct. 19 and KU at a yet-to-be determined date. He told Rivals.com that KU and Virginia Tech are his co-leaders. Georgia Tech, Marquette and others are also on his list.
¢ Little visits KSU: Mario Little, a 6-5 sophomore guard from Chipola (Fla.) Junior College, visited Kansas State last weekend, one weekend after his trip to KU. Chipola coach Greg Heiar told Rivals.com "everything went well on his visit. He really liked his visit." Heiar said Little will decide later this week if he wants to take his scheduled visit to Illinois on Sept. 28.
Copyright 2018 The Lawrence Journal-World. All rights reserved. This material may not be published, broadcast, rewritten or redistributed. We strive to uphold our values for every story published.