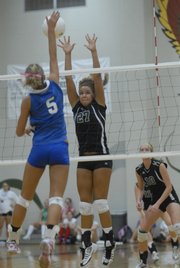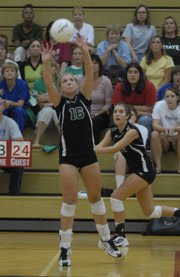 The hottest high school team in town finally played at home Monday night.
In a rare dual match-up with Leavenworth, Free State High's volleyball squad made quick work of the Pioneers in a three-game sweep and showed off all of the elements that make this team tick.
The victory - 25-13, 25-22 and 25-14 - improved the Firebirds' record to 9-2 on the season and came in the same fashion as many before it. Free State used a dominating performance at the net and combined that with scrappy play from the back row to cruise to victory in just over an hour.
Senior Brooke Carter led the Firebirds with 11 kills and seven blocks, and juniors Sierra Dickson (five kills) and Taylor Manning (eight kills) also contributed to the offensive attack.
Defensively, the Firebirds were even more impressive, as senior Melanie Chaussee teamed with Manning, Carter and sophomore Chantay Caron to form a steel curtain of sorts at the net. Caron and Chaussee joined Carter in recording seven blocks apiece. Senior libero Alyx Glover led the team with 12 digs.
Although they swept the Pioneers for their fourth victory in a row, the Firebirds opened their home season a step slow.
"I think we were caught a little off guard and came out a little flat," Carter said. "We needed raise the intensity first in order for our crowd to join in. And once we did, I think things went much better."
But this year's Firebirds are about much more than bombing from the outside, hustling from sideline to sideline to save a rally or rolling over opponents.
This group seems to focus first on having fun. Winning volleyball matches is simply a by-product of the atmosphere.
"They have a lot of fun together, they like each other a lot, and they get along really well," Free State coach Nancy Hopkins said. 'There is no interior drama that gets in the way. This is an awesome group."
Hopkins said the girls' consistent attendance at summer conditioning sessions helped develop the chemistry they're now displaying on the court.
But it's not just during their meets when the girls appear to be on the same page.
Before Monday's match, the team flashed a choreographed dance routine to the pregame music. And their warm-ups seemed to be as much Dance Party USA as they were about focus and concentration.
Behind the scenes, the fun shines through even more. Attending a Free State volleyball practice is akin to taking a trip to the circus. The girls goof around on the court, smile and laugh constantly and enjoy wacky games throughout practice - but only between intense drills and only after they've taken care of business.
This year, the upperclassmen have taken their role as party planners rather seriously. Each Friday is known as Thank God It's Bandana Friday, or TGIBF. In addition to wearing crazy bandanas in their hair, they don T-shirts to celebrate the day.
"This year just feels different because we are the seniors now," Chaussee said. "When we have team dinners, it's not just something we have to do. It's team bonding, too."
So far this season, the Firebirds' biggest bond has been their love of food. Even manager Tyler Arachtingi has gotten in on the act. One night, Arachtingi downed four sack lunches, three separate postgame meals at Wendy's and still felt compelled to wolf down a frozen pizza when he got home. On another occasion, Arachtingi ate 35 pieces of pizza from the Pizza Street buffet. That's before topping it off with a few bowls of ice cream at the dessert bar.
Like their manager, the players are food hounds, as well. Hopkins has promised a Chipotle burrito to anyone who drills an opponent in the face with a spike.
So far, four Firebirds have earned burritos, the most recent being Manning on Monday night against Leavenworth. Manning's smash in the second game prompted one Leavenworth senior to divulge, "My face is numb."
"We reward that because of the aggression and because that usually means they put a good swing on the ball," Hopkins said. "We're not looking to hurt people."
Unless, of course, those people are members of the Shawnee Mission Northwest student section. Last week, during a triangular at SMNW, the Firebirds took it upon themselves to quiet the regularly rowdy Cougars crowd.
"Our hitting and blocking is a big-time strength," Chaussee said. "Our hitting just makes you speechless."
After winning Game One, 25-21, Hopkins challenged her team to hold the Cougars to fewer than 15 points in Game Two. A hot start, during which the Firebirds jumped to a 12-3 lead, inspired Hopkins to alter the challenge. At that point, 10 became the magic number. The reward, once again, involved food.
Holding the Cougars to 10 points or less in the second game meant the Firebirds got a one-day break from their team rule that bans chocolate during the season. The Firebirds won Game Two, 25-4.
The next day at practice, many of the seniors brought candy bars to the gym, and the entire team capitalized on its chance for chocolate until the final minute of the 24-hour break.
It's that kind of mentality that keeps the Firebirds loose when game time arrives. And so far, the balance between fun and intense has worked well.
With four legitimate hitters and just as many monster blockers, the Firebirds are as dangerous on offense as they are on defense. Despite losing four key players from last year's squad, the team entered the season with high hopes. The fast start only has added to its expectations.
"I think we all knew we were going to be good this year," senior setter Kelsey Allen said. "But we've all played great so far and we're having a blast."
Copyright 2018 The Lawrence Journal-World. All rights reserved. This material may not be published, broadcast, rewritten or redistributed. We strive to uphold our values for every story published.