-->
Photo Gallery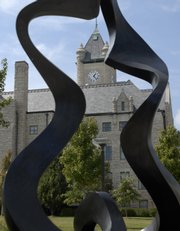 Douglas County Courthouse
The first phase of a multiyear historic preservation effort will begin next month at the 102-year-old Douglas County Courthouse.
"It's such a beautiful old building, we ought to take care of it," Commissioner Charles Jones said.
County commissioners on Monday approved a bid from Restoration and Waterproofing Contractors Inc. to be the contractor for the project. The bid was for more than $1.12 million. The firm has offices in Kansas City, Kan., Topeka and Wichita.
Jones and Commissioner Jere McElhaney approved the bid. Commissioner Bob Johnson was unable to attend the meeting but McElhaney said Johnson was aware of the bid and would have voted for it as well.
The work, which will take about a year to complete, includes repairs to the chimney, clock tower and west entrance stone restoration.
Don McMican, president of DGM Consultants in Overland Park, is working with the county as the consulting engineer for the project.
McMican noted that some of the work to be done included the chimney, where the stone has deteriorated and was not constructed so that it is as stable as it should be.
"We'll be replacing that and in the process we'll replace all of the face of the mortar joints," he said.
Weather has also deteriorated other areas of the building, McMican said.
Considerable work needs to be done on the west entrance and wall, window sills, sidewalk and steps.
"It's a massive effort to get that west entrance restored to its original grandeur," he said.
The county's building and capital improvements budgets have funds allocated for the project.
The county applied for a Heritage Trust Fund grant but was not accepted because of the limited funds available, county purchasing director Jackie Waggoner said. The county also applied for tax credits available under the Kansas State Rehabilitation Tax Credit program. Waggoner said she thinks the county can sell the tax credits for about $250,000.
Masonry contractors responding to the bid solicitations had to meet certain criteria in a pre-qualification process. McMican and Restoration and Waterproofing Contractors Inc. have worked on other historic buildings. One of those projects was the 150-year-old brick house owned by Dennis and Judy Dailey at 1111 E. 19th St.
Depending on available funding, additional historic restoration projects at the courthouse will be done in future years.
Construction of the courthouse began in 1903. There is no evidence the opening of the courthouse was ever officially dedicated. County workers moved in without fanfare in January 1905.
Copyright 2018 The Lawrence Journal-World. All rights reserved. This material may not be published, broadcast, rewritten or redistributed. We strive to uphold our values for every story published.