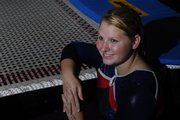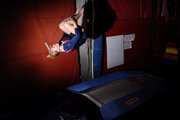 Sara Giermann has been competing in trampoline and tumbling at Lawrence's G-Force Athletics for the last five years.
Just one week before attending the USA Gymnastics Trampoline & Tumbling National Championships in Memphis, Tenn., in June, her hopes of finally winning a national title came close to a premature end.
"I was doing my trampoline routine, and my knee gave out during practice, so it wasn't a big deal," said Giermann, who suffered a sprained knee. "I just fought through it. In the practice right after it happened, I just didn't do anything. I kind of stretched it out and then just got to working."
The fight she showed during that week paid dividends when Giermann, a junior cheerleader at Free State High, went on to win a championship in the double mini of the 15-and-over, Level-7 group. It's the first known national champion that Lawrence ever has had in the sport.
"Talk about going out with a bang: the John Elway Syndrome," said Jimmy Godfrey, who coached Giermann all five years. "She threw the first score, and I got a big grin on my face because it was a big score, and when she made that second pass, I was like, 'We're home free.'"
Thanks to a stellar second pass of 29.9 out of 30, Giermann landed a final score of 59.30 - out of 60 points - which vaulted her to a 0.10 advantage over the runner-up.
"I think my second pass is probably the better one because it's the one I've been throwing for a couple of years, and I just felt more comfortable with it. So I just went for it and gave it all I've got," Giermann said.
One year prior, Giermann had to settle for a third-place finish at nationals in large part due to her landing. And Godfrey has been bugging her about that ever since.
"You have to stick it. Because if you take a step like I did last year, you lose major points," Giermann said. "So sticking it helped a lot, and I just had to throw jumps onto the double mini and stick them. My coaches kept reminding me, 'You've got to stick it, or you're going to get third. You've got to stick it, that's one-tenth (of a point).'"
Now Godfrey will have a perfect example for future athletes and proof that he's not just trying to work them over when saying one-tenth of a point makes the difference.
"At some practices, some kids just think they're tired, and you're like, 'Remember, that one step is all that costs you.' I think that finally sunk in," Godfrey said. "There weren't any steps on either of those passes, so they were very clean passes.
"When you get to that regional and national level, it really comes down to those little things - the cleanliness, the technique. I would say here in the last year she's really taken off with everything, and that's what it comes down to. The last two years it's finally clicked, and she's hitting those right body lines."
That one week on the mend brought a satisfying close to Giermann's five years at G-Force Athletics, but now she'll have other forms of tumbling to keep her busy and hone her skills.
"I'm just going to stick to competitive cheerleading and school cheerleading. Hopefully do it in college," Giermann said. "I hope to coach or help coach at some point in the future."
Copyright 2018 The Lawrence Journal-World. All rights reserved. This material may not be published, broadcast, rewritten or redistributed. We strive to uphold our values for every story published.