Photo Gallery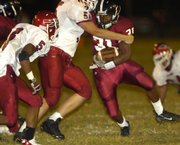 LHS vs. SM North
Lawrence High's football team outgained and outplayed Shawnee Mission North for much of its home opener Friday night at Haskell Stadium.
Yet the Lions found themselves in the precarious position of having no lead and no momentum when they looked up at the scoreboard heading into the fourth quarter.
That's when LHS quarterback Clint Pinnick went to work, creating three touchdown drives in less than nine minutes to lead Lawrence to a 31-21 victory in a game the Lions desperately wanted against the winless Indians.
"One big play can change the game," Pinnick said afterward, "just like it happened."
The "big play" occurred just 11 seconds into the final quarter. With the Lions trailing by four after giving up a SM North score, Pinnick rolled to his right on an option keeper from the Indians' 40-yard-line, broke loose down the right side and dove for the pylon in the front of the endzone.
Minutes later, the game was out of reach for the Indians, but not before they put a huge scare into the Lions.
"We dug ourselves in a hole all game," LHS head coach Dirk Wedd said, "and it probably took something like (trailing) to wake us up and get us going."
Lawrence looked well on its way to an easy victory in the early going. Pinnick found wide receiver Jared Vinoverski wide open down the middle of the field on the second play from scrimmage for a 61-yard touchdown, and LHS led 7-0 after only 48 seconds.
Defensively, the Lions were equally impressive, allowing minus-eight yards until SM North got its first score with 13 seconds left in the half. But despite outgaining the Indians 218 to 66 in the first half, LHS only led 10-7 thanks in large part to two first half turnovers.
Pinnick finished the game just 9-for-18 passing, but his playmaking ability took over when his team needed it.
Afterward, he admitted he didn't have his best game behind center.
"You can't live in the past," Pinnick said. "You've got to live for the next play every time. They had the momentum, but we just came out and dealt with it and made things happen."
LHS (2-1) wouldn't have needed any late game heroics, however, if not for lackluster play in the middle quarters.
SM North (0-3) trailed by three in the third quarter when a trick play appeared to turn fortunes in favor of the Indians. Wide receiver Aaron Sawyer - who caught two touchdown passes on 108 yards receiving - threw for his first touchdown of the season. Indians Quarterback Arthur Rucker lateraled a pass to Sawyer, who layed a perfect pass into the hands of slot-back Edward Shields for a 44-yard touchdown, giving SM North its first lead in any game this season.
After Pinnick's score, SM North was driving again until LHS's Quintin Rucker got the best of Arthur Rucker, recovering a fumbled snap that turned into another Lions score three plays later.
"I can't take any credit," Rucker said about shifting the momentum. "I've got to give it to the touchdown Clint got because it got us believing again."
LHS running back Clifton Sims also had a hand in the win, carrying 25 times for 117 yards. He caught a 27-yard screen pass for a touchdown with 8:13 left in the game that proved to be the winning score. Pinnick added another TD on a 10-yard bootleg with two minutes left to seal the win.
The victory wasn't pretty, that's for certain. But Wedd sure doesn't mind.
"We've got a whole bunch of snot-nosed kids that have great character," he said, "and that's probably the bottom line because they found a way to win."
Copyright 2018 The Lawrence Journal-World. All rights reserved. This material may not be published, broadcast, rewritten or redistributed. We strive to uphold our values for every story published.