Photo Gallery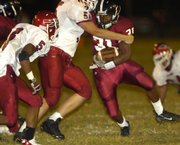 LHS vs. SM North
Finish the play. Coaches in every sport holler the phrase over and over again. Lawrence High's cheerleaders need to start hollering those same words to spectators when junior Clifton Sims carries the football. Either that or pipe Yogi Berra uttering his most famous phrase through the loudspeakers: "It ain't over 'til it's over."
Not as big as his listed dimensions of 5-feet-8 inches and 175 pounds, Sims plays far bigger than that. When it seems as if the swarm of tacklers finally has stopped him, he somehow manages to keep pushing the pile by keeping his powerful legs moving forward.
Credit sheer will with a majority of the 117 rushing yards he gained on 25 carries and the 45 yards and one touchdown he contributed on three receptions in the Lion's 31-21 comeback victory against Shawnee Mission North.
How does he do it? How does he keep his legs moving? How does he keep pushing the pile?
For starters, his legs are unusually strong.
"He's got big old legs, and he works very hard on that in the weight room," LHS coach Dirk Wedd said. "We maxed out this week, and he squatted over 400 pounds and power-cleaned 265. That's powerful for a kid who probably doesn't weigh more than 160."
It's evident that far more than physical strength is in play when Sims is grinding a no-gainer into a three-yard run.
"I play with that chip on my shoulder," Sims said. "I play with some anger."
Some of that, he acknowledged, comes from his size.
"A lot of people have doubted me," he said. "If someone says you can't do something, I want everyone to know if you've got it in your heart, you can get it done."
There seemed to be even more at work than a strong lower body and a chipped shoulder as Sims kept going and going and going.
Was there something else driving the young man who answers "yes sir" and "no sir" to every question?
"My coach is in the hospital right now, and I just want to play for him," Sims said.
Now it made sense, the way he kept plays going long after reason suggested they should have ended.
Sims was talking about assistant coach Devin McAnderson, a former LHS quarterback whose brother, Brandon, is the leading rusher for Kansas University. Devin is hospitalized battling an undisclosed illness.
"He's ill, and I wanted to play for him," Sims said. "Hopefully, you can put that in there, sir, so he knows all the backs are playing for him. We want him to know that."
That Sims would be driven to perform at such a high level because he's playing for his position coach says a lot about both the player and the coach. It speaks to McAnderson's dedication. He's popular with his football students because he knows his stuff and knows how to teach it to players in a way that keeps them in a constant state of improvement.
What it says about Sims is that he doesn't take the help he receives for granted. He understands and appreciates how much his coach has done for him. Not taking gifts for granted isn't a given for anyone of any age. Clifton Sims is not your average teenager.
"When I leave Lawrence High, I don't want to leave with a regret that I should have played a single play harder," Sims said.
Copyright 2018 The Lawrence Journal-World. All rights reserved. This material may not be published, broadcast, rewritten or redistributed. We strive to uphold our values for every story published.