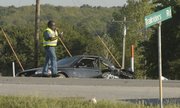 Accident location
Three people were taken to area hospitals - two to Kansas City - after a crash involving several vehicles Thursday morning northwest of Lawrence.
Of the three, a Kansas University student and a Lecompton man had been treated and released by Thursday afternoon.
Lt. Kari Wempe, a Douglas County Sheriff's spokeswoman, said a sport utility vehicle rear-ended a pickup truck, then veered and struck a car. The accident occurred at 7:40 a.m. on North 1800 Road, also known as the Farmers Turnpike, near East 800 Road, known as Trailriders Road.
Debra Ellebracht, 37, Lawrence, was driving the SUV west and apparently did not see that a brown pickup truck had stopped because a recreational vehicle was turning left to drive south on East 800 Road, Wempe said.
The SUV hit the back of the pickup - driven by 57-year-old Donald Boose, of Lecompton - and then veered north and broadsided a black Honda car that had stopped at a stop sign in the southbound lane of East 800 Road. The Honda was driven by 18-year-old Alyssa Phillips, of Lecompton, Wempe said.
Boose was flown by helicopter ambulance to Kansas University Hospital in Kansas City, Kan., but he was released Thursday afternoon. He was bruised, after suffering head and neck injuries, according to his sister-in-law Elaine Boose.
Emergency crews extricated Ellebracht and Phillips from their vehicles. They were taken by ambulance to Lawrence Memorial Hospital. Ellebracht was transferred to KU Hospital, where a condition report was unavailable Thursday because of the hospital's privacy policy, spokesman Bob Hallinan said.
Phillips, a KU freshman and 2007 Perry-Lecompton High School graduate, was treated and released from the LMH emergency room, spokeswoman Belinda Rehmer said.
Wempe said two eastbound vehicles were involved in a rear-end collision when they came upon the crash in the westbound lane, but no one in those vehicles was injured.
Officers did not release an exact cause of the wreck Thursday.
"At this particular point, no citations have been issued, but it's still under investigation," Wempe said.
Copyright 2017 The Lawrence Journal-World. All rights reserved. This material may not be published, broadcast, rewritten or redistributed. We strive to uphold our values for every story published.