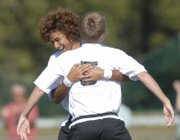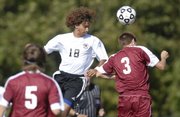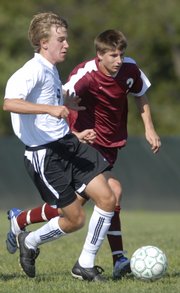 The apex of Free State High's boys soccer victory over Shawnee Mission North on Thursday came in the 12th minute, when forward Erik Slan took the ball up the right sideline, worked a give-and-go with Alex Clayton and shot the ball past the Indians' goalkeeper.
Free State coach Jason Pendleton was happy with that play - saying it would be a good goal against any opponent - in the Firebirds' 2-0 victory, but not much else.
"It was a great counter-attacking goal. We got down the field in a few seconds - a couple of one-two, one-touch combos and then buried the ball," Pendleton said. "That was, by far, the high-water mark of the day."
Pendleton was visibly frustrated with the play of the Firebirds (5-1, 3-1) during the home victory and said afterward that scoring opportunities were wasted because of a lack of focus.
"It was bad," the coach said of the Firebirds' effort. "We played slowly, we didn't play smart a lot of the time and were a little bit lethargic, and we didn't look like we were having fun."
Free State goalkeeper Frank Hurtig stopped two shots by the Indians in the final five minutes to seal the victory. The second came on an Indians free kick that bent around Free State's wall of defenders before Hurtig cradled it against his chest.
"Frank Hurtig had to make some big saves in the second half to keep them from (getting) on the board," Pendleton said.
"It's disappointing because we're better than we played today," Pendleton added. "It's not so much the margin of victory. I want us to play like we're capable of playing. If you're not meeting your own potential and expectations, then you're failing, in essence."
Pendleton pointed the finger at himself and said he needed to do a better job of having his team ready to play in the future.
"I've got to find a way to get us motivated in a situation like this," he said.
After the match, the Firebirds were lectured about playing to their potential and took their coach's words to heart.
Slan admitted he and his teammates need to improve their mental effort and connect on passes.
"In the second half we started getting things together, but it's not where it should be yet," Slan said.
The Firebirds outshot SM North 17-6, but Pendleton and the players felt another goal or two would have been ideal.
"We have a pretty good offense, we just need to make our chances," Slan said, adding that scoring opportunities can come from anywhere. "We have balls coming in from the back and then from the midfield."
Free State scored its second goal eight minutes into the second half when Clayton created an opportunity by firing a shot that midfielder Andrew Heck re-directed into the back of the net.
As for the first goal, defender Greg Glatz was about to make a play on the ball when Slan took it and made his move upfield. Seeing Glatz there made Slan hesitate as he remembered a similar situation two years ago where he failed to make a play, much to Glatz's displeasure. However, as a senior, Slan didn't disappoint Glatz and credited Clayton with setting him up on the picture-perfect goal.
"He played a good ball straight back. There was nobody on me, and I just buried it," Slan said of the rare open-field scoring opportunity, adding that those plays don't have to be so few and far between. "If you put yourself in position, then it can happen any time."
Free State next plays Tuesday at Leavenworth at 6:15 p.m.
Copyright 2018 The Lawrence Journal-World. All rights reserved. This material may not be published, broadcast, rewritten or redistributed. We strive to uphold our values for every story published.