Photo Gallery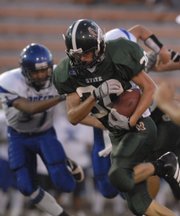 FSHS vs. Leavenworth
The Free State Firebirds threw up 41 points on Thursday night, but all anyone wanted to talk about was the other side of the ball.
Behind a stingy defensive unit that held Leavenworth to fewer than 100 total yards, Free State High moved to 2-1 on the season with a 41-0 spanking of the Pioneers.
"We were fittin' and hittin' more tonight," senior linebacker Ryder Werts said. "And I think we did a lot better job of filling gaps and knowing our assignments. I thought it was a good effort."
That's putting it mildly.
The Firebirds were nasty on defense in the first half, surrendering just 45 yards of total offense to the Pioneers, including 16 yards on 15 carries on the ground. The Firebirds' pass defense, which had been a problem through two games, also was sharp during the opening half.
"I think our guys played a little better up front, and we played some better pass coverage tonight than we've been doing," Free State coach Bob Lisher said. "Our guys were in good zones, reading routes and jumping into the routes when the ball was thrown, which is something we haven't been doing."
While the Free State defense held Leavenworth in check, the offense raced to a 35-0 lead behind three Chucky Hunter touchdown runs. Hunter scored on dashes of 2, 14 and 2 yards and finished his three-quarter night with 88 yards on 16 carries. Senior quarterback Craig Rosenstengle was just as effective, rushing 10 times for 77 yards and notching touchdown runs of 8 and 12 yards.
"Leavenworth has some pretty good-sized people up front, and they were sending the house a lot," Lisher said. "We did a decent job early picking it up."
The only other Free State touchdown came from the defense, when cornerback Jason Sneegas scooped up a Will Brown fumble, fought off a tackle around his knees and raced 28 yards to score. It was only fitting that the defense scored during a night in which it did everything else.
Free State forced two fumbles, recovering one, and intercepted three Garret McGowen passes. Mitch Werts picked off the first, and Kirk Resseguie got the second. The final interception might have been the most memorable play of the game, as Camren Tornedon's pick with 1:07 to play came in the end zone.
"It's big keeping that zero on the board," senior linebacker Caleb Gress said. "It helps a lot."
Lisher agreed, saying the shutout was a testament to the hard work of every player in green.
"Absolutely. Our No. 1 guys had been working hard for that shutout, and everybody at practice had been working hard for that shutout," he said. "We told everybody at halftime, 'When you're in there, it's your responsibility to keep that zero on the board."
Mission accomplished.
On a night that saw the starters yanked early in the fourth quarter, Lisher made it a point to get as many Firebirds into the game as possible. Cameron and Chandler Schmidt both took snaps at quarterback, and Jack Caywood, Lukas Mace and Mark Edwards each received some unusual carries.
Despite several second- and third-string players finding their way onto the field, the Firebirds remained solid on both sides of the ball.
"Our challenge was to continue to make ourselves better," Lisher said. "I told them at halftime we had 24 minutes to make ourselves a better football team regardless of the score, and we wanted them to come out and focus mentally on doing our assignments correctly on every snap regardless of who was in the game. For the most part, I thought we did that."
The Firebirds weren't perfect Thursday night, not by any means. A sluggish start and seven penalties for 65 yards is all it takes to see that. But the offense rolled up a big number for the third straight game, and the defense finally came around to join them.
"This is just what we needed," Werts said. "We had two really bad defensive games, so even if it wasn't much to brag about I think it was really good for our confidence because next week's a big game."
Free State will entertain Olathe North a week from today at Haskell Stadium. The Eagles and their foe tonight, Shawnee Mission Northwest, both sport 2-0 records.
Copyright 2018 The Lawrence Journal-World. All rights reserved. This material may not be published, broadcast, rewritten or redistributed. We strive to uphold our values for every story published.