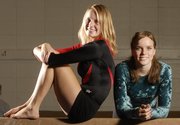 During the 2006 girls gymnastics season, Kathy Johnson, the coach for both Lawrence High and Free State High, was so short of Firebirds she didn't have enough to fill out a team for competitions.
One year later, Johnson has seen the numbers at Free State jump back up and even had the return of one of her top competitors.
"A lot bigger numbers - which is a good problem," Johnson said. "It's one of those things from year to year that's hard to know. But we're happy to have them, and it should be good."
After a one-year hiatus, Free State junior Amelia Firns-Hubert decided to return to the sport, feeling a little more healthy from an injury she suffered in eighth grade.
"I had broken the growth plate in my foot, and I had to get a pin in it my eighth-grade year, and in my ninth-grade year it was still bothering me," Firns-Hubert said. "They're a little better this year. My freshman year they hurt really bad, but this year they don't hurt - yet. It still aches a little bit, but it got better over the year off. It was kind of nice saving my ankles.
"There's some strength that I need to get back in weird muscles that you only use when doing some of the weird skills in gymnastics. Most of it's just natural, now, from doing it for 10 years."
Juniors Elena Guteriez, Jessica Hase and Cortney Zinn join Firns-Hubert as the upperclassmen for the Firebirds, with sophomores Drue Davis and Paige Trimble along with freshmen Kelcy Bowers and Tawney Carter filling out the renewed squad.
Meanwhile, LHS still is sporting a strong group of girls in a program that has won the last three state gymnastics team titles.
The Lions return two seniors - Mallory West and LeighAnn Krishe - as well as two juniors in Sarah Athey and Paulina Rodriguez. The foursome gives the Lions a talented and experienced group of leaders.
Though LHS doesn't have any freshmen on the team, a strong group of sophomores - Maria Carvajal, Korissa Gillespie, Caitlin Haig, Carissa Nott, Rachel Rasumussen and Shannon Summers - comprises more than half of the squad.
Johnson said she anticipates the LHS seniors, especially West, who never is shy of being supportive, to guide the two schools that practice together.
"She's the one that's done this the longest," Johnson said of West. "We only have two seniors out of all of these girls. ... They're a fairly young group of girls, and I think they'll just look to those who have experience in the sport and follow that."
West said there isn't a lot, outside of cheering on her teammates, that she really can contribute.
"A lot of the skills that most of them are trying, I have done before so I may be able to give them a quick tip here and there," said West, who finished sixth in the all-around competition at state as a junior. "But mainly, I'm just encouraging them - that's really all I can do."
West also is dealing with her own issues, starting off the season with yet another injury.
"I've had a lot of injuries in the past few years so I'm just trying to heal from those and get back in there and get some skills back," West said. "Both of my ankles and both of my wrists are pretty beat up from all the gymnastics over the years. So now I'm paying for it - old at age 18.
"I'm just taking stuffy really slowly. I know what my routines are going to be in all of the events, so I'm just working slowly into stuff and really trying not to overdo it. Last year, I overdid it a little too soon, and for this year I'm just trying to keep it really slow and to hopefully peak at the state meet. I don't want to peak too soon, so I'm just holding off a little bit on some stuff."
The two city squads start their seasons today at the Shawnee Mission East Invitational. The first events will begin around 6 p.m.
The first meet in Lawrence for both teams will be the LHS quad at 6 p.m. on September 12 at Lawrence High.
Copyright 2018 The Lawrence Journal-World. All rights reserved. This material may not be published, broadcast, rewritten or redistributed. We strive to uphold our values for every story published.