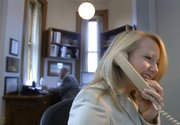 County administrators' authority less clear than city counterparts'
A total of 17 Kansas counties have county administrator positions, and Douglas County is one of them.
Only one county - Reno - has a vacant administrator position, according to the Kansas Association of Counties office in Topeka.
"There are a lot of folks who have been in those positions a long time," said Randall Allen, the association's executive director. "It's really quite amazing."
The stability of Kansas county administrator positions is probably due to the quality of the administrators themselves and the groundwork laid ahead of time by the people who did the hiring, Allen said.
Craig Weinaug has held the Douglas County administrator's job for more than 15 years. The skills needed for running a city or a county are basically the same, he said.
However, the authority of county administrators is less definitive because they are working with elected department heads, such as a sheriff and a clerk. Their boss technically is the public, he said.
"A successful county administrator has to be very skilled at being effective despite not having the clear authority of a city manager," said Weinaug, who also is president of the Kansas Association of City/ County Management.
Jenny Hesseltine expects to get her first city manager's job in a small town.
"Coming from a small town, I really feel like that's where I want to start out," said the Kansas University graduate student from Fairfield, Iowa.
Hesseltine may be the exception rather than the norm among college students seeking master's degrees in public administration to become city managers or administrators. Many of them are more interested in getting city management jobs in larger cities, or small towns close to metropolitan areas, said Don Osenbaugh, Kansas League of Municipalities' director of finance and field services.
To get around that obstacle, some small-town mayors and councils are taking another approach.
"More small cities are hiring a nontraditional city manager," Osenbaugh said. "They are people who really didn't go to school to be a city manager, but a job was open, so they applied for it and got it."
A case in point is Larry Thurston. The new city administrator of Lyndon, Thurston grew up in the town for which he works. He was an Osage County farmer for several years before he got a job as gravel road supervisor in Franklin County and noxious weeds director in Anderson County. He later held public works director positions in Sheridan County and Louisburg. Before coming back to Lyndon, Thurston was city administrator in Eureka.
In Osage County, Thurston served on planning commissions, conservation districts and school boards. He thinks that background helped prepare him to deal with city management duties.
"I understand what my councilmen are responsible for and know what they might expect," he said.
Thurston, 67, is drawing retirement pay from his Louisburg job. He is Lyndon's first city administrator. According to the 2005 U.S. Census, Lyndon's population is little more than 1,000 people. Typically, Kansas towns with 1,500 people are deciding to take the city council-city manager form of government, Osenbaugh said.
"It's just that's become so complicated trying to run a town with all the federal regulations and all the things that go into it," he said.
'A bigger difference'
Ty Lasher grew up in McLouth, got a degree in agri-business, and worked as noxious weeds director in Jefferson and Reno counties before going into city management.
"I started wondering, 'Where do I go from here?'" said Lasher, 43. "I realized there was a lot more going on in county governments than noxious weeds. That interested me."
Lasher went back to college - at Wichita State University - and received a master's in public administration. He got a job as city manager in Cheney where he stayed five years before becoming city manager in Bel Aire, a Wichita suburb of 5,000 people, last month.
"If you really want to know how a city works, then start in a small town," Lasher said. "A city of 2,000 works exactly like a city of 10,000; it just has a few more water meters."
Cheryl Beatty was living in Montana when she left the corporate world and became involved in politics and city management. She moved to Kansas and became Kingman's first city manager where she stayed for eight years before taking Eudora's city administrator job two years ago.
"I know that in a large city, I'd make more money," Beatty said. "I enjoy working with smaller cities because you can make a bigger difference and they also have a harder time getting quality management to them. Eudora is probably the largest I'd ever go to, realizing that Eudora is going to grow."
Applicant pool dwindling
There is another reason small towns are seeing a dwindling list of city manager candidates. The baby-boom generation is getting older, and city managers from that generation are retiring, Osenbaugh said. The so-called "Gen-X" population is not as large, he said.
"This is something that is not just an issue in the city manager profession; it is in other professions as well," Osenbaugh said.
One of Douglas County Administrator Craig Weinaug's first jobs out of college in 1977 was as city administrator in Scott City, population 4,000.
"It was one of the best two or three years of my life," said Weinaug, who went on to work in other cities, including Ardmore, Okla., before returning to his home town of Lawrence where he has been county administrator for 15 years.
Hesseltine, who works as an intern in Weinaug's office, said her transition to a small town should be helped because she is married.
"Having someone with me will make that easier," she said.
Copyright 2017 The Lawrence Journal-World. All rights reserved. This material may not be published, broadcast, rewritten or redistributed. We strive to uphold our values for every story published.