Photo Gallery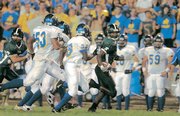 Free State vs O-South football
Bob Lisher and the Free State Firebirds didn't take the football field Friday night hoping for a moral victory against Olathe South.
But after four quarters of battle with the Sunflower League's preseason favorite, that's exactly what they got.
Despite an explosive first quarter in which the Firebirds scored touchdowns two of the first three times they touched the ball, Olathe South's size and experience prevailed, 34-27, at Haskell Stadium.
"I hate losing," Lisher said. "I didn't come here for a moral victory. I wanted our guys to taste victory against these guys, and I think we were capable of it. In that regard, I'm disappointed. But in the fact that we gave great effort and we have room to improve, that's a positive, and we can go with that."
Early on, it was the Firebirds, not the Falcons, who looked like the preseason favorites. On the first play from scrimmage, junior tailback Chucky Hunter tip-toed through the backfield, flashed a nifty spin move at the line and raced down the Free State sideline to the Olathe South five-yard line. From there, senior quarterback Craig Rosenstengle punched it in, and the Firebirds led 7-0.
"Chucky's a great player, and he made a great play," Rosenstengle said. "I got a cheap touchdown from five yards out thanks to Chucky."
Hunter wasn't finished.
After the Falcons scored on their opening drive, Hunter took the ensuing kickoff 99 yards for a touchdown, and the Firebirds led 14-6.
"It was a heck of a start," Lisher said. "You couldn't have scripted it any better to score in two plays. And then, after they scored, we got the kickoff return for a touchdown, and that kind of set the tone. I was hoping we could carry that momentum, but we knew it was going to be a dogfight from the get-go. They're not picked No. 1 for no reason."
At that point, Olathe South quarterback Mike Keese went to work, leading the Falcons on scoring drives of 12 and 14 plays to turn the eight-point deficit into a seven-point lead. Olathe South led 21-14 at the half.
Keese was 11-for-14 for 144 yards in the first half. In the second, he picked up right where he left off. On the Falcons' first play of the second half, Keese hit Anthony Sanchez over the middle for a 74-yard touchdown that pushed the lead to 27-14. For the night, Keese finished 15-for-26 for 282 yards and three touchdowns.
Down but not out, Free State pulled within a touchdown after Hunter scored from 13 yards out with 4:22 to play in the third quarter.
The Firebirds tied it at 27 late in the third after a Jason Sneegas interception set up Rosenstengle's 30-yard touchdown pass to Preston Randolph on fourth-and-20.
While Free State's offense found a way to keep up with Keese and the Falcons, it was the defense that made the biggest impact. After having his way with the Free State secondary in the first half, Keese was neutralized for most of the second half.
"Up front, we talked about getting a better pass rush, and we did that in the second half," FSHS senior nose tackle Kevin Coleman said.
Coleman and senior Scott Williams both recorded second-half sacks.
But the biggest hit of the night came on special teams when senior Shaun James lowered the boom on a Falcons' kick returner after the Firebirds had tied the score.
"That was a heck of a hit," Lisher said. "(James) came down and just lit the guy up. But we still had to line up and finish, and we couldn't quite finish."
Hunter finished the night with 123 yards on 11 carries. He added another 20 yards on four receptions. Rosenstengle finished 8-for-20 for 124 yards, one touchdown and one interception.
Free State came away from the contest encouraged.
"Our identity is simply this: We have got to be fundamentally sound, and we don't want to get outhit, ever," Lisher said. "I don't think we were outhit tonight, but we may have been out-fundamentaled tonight. We have to improve those things. And we will."
Copyright 2017 The Lawrence Journal-World. All rights reserved. This material may not be published, broadcast, rewritten or redistributed. We strive to uphold our values for every story published.