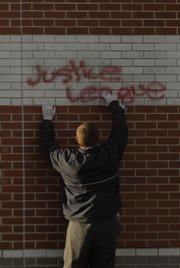 School district custodial staff worked through Thursday's early morning hours to clean off spray paint on windows, bricks and the Firebird sculpture at Free State High School.
Later, administrators announced that seven Lawrence High School students were suspended after an investigation by school officials and police.
The red paint that spelled "LHS" sprayed onto the building and the vehicles of two staff members came less than 48 hours before tonight's intracity rivalry football game at Haskell Stadium.
Free State administrators Thursday morning made an announcement that included an apology from the LHS administration and encouraged students not to retaliate.
"We've got two good high schools, and so often what happens is a few people cause distress," Free State Principal Joe Snyder said.
According to a report, police were called at 11 p.m. Wednesday to the school at 4700 Overland Drive. Brick walls and windows were damaged at a cost of $5,000, and two vehicles each sustained $1,000 worth of damage.
Some Free State students said it is fun to have a friendly rivalry, but they didn't approve of the damage.
"I think that might be taking it a tad too far," said Clara Groene, a Free State senior and student council treasurer.
LHS Associate Principal Matt Brungardt said the schools worked together with police to investigate the situation.
"Vandalism has nothing to do with the spirit of any rivalry," he said. "It's not a prank; it's nothing like that. That's criminal damage."
Rick Gammill, the district's special operations director, said the seven LHS students were suspended and released to their parents. Kim Murphree, a Lawrence police spokeswoman, said officers would forward the investigation to District Attorney Charles Branson's office, where a decision on whether to file charges would be made.
The week of last year's football game, three LHS seniors were suspended for breaking into Free State and stealing two state championship banners, which were later returned. In December, the day of an intracity basketball game, two roosters were spray-painted green and chained to trees outside Free State.
LHS Principal Steve Nilhas said this week's incident seemed to be more significant, and he called it "a few people making bad decisions."
"We dealt with it, and certainly shared with Free State our disgust and disappointment over the event and just need to make clear that this isn't a part of what we want to be doing," Nilhas said.
Copyright 2018 The Lawrence Journal-World. All rights reserved. This material may not be published, broadcast, rewritten or redistributed. We strive to uphold our values for every story published.