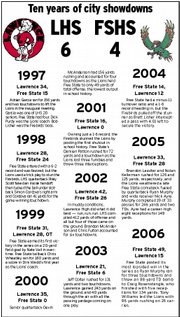 Dirk Wedd has been laying it on pretty thick about Free State High's football team.
Wedd, now in his ninth season as Lawrence High's coach, makes it sound like the Firebirds are the high school equivalent of the New England Patriots.
"People will think I'm crazy," Wedd said, "but they might be better than they were last year."
Last fall, Free State (5-2) posted an 11-1 record - best in the school's 11-year history - that included a 49-15 thumping of the Lions, the most lopsided loss tradition-rich Lawrence has ever suffered in the intra-city series.
"Right now," Wedd added, "they may be playing better than anyone in the Sunflower League."
Wedd also tossed orchids at Free State quarterback Craig Rosenstengle ("He can do so many things"), tailback Chucky Hunter ("A special back") and fullback Ryder Werts ("He's a load").
In addition, Wedd characterized wide receiver Marcus Holman as "10 times faster than anyone we've got." And there were kudos, too, for the Firebirds' two inside linebackers - Werts and Mike Santee.
"Werts and Santee," the Lions' coach said, "may be the two best linebackers in the Sunflower League."
And Wedd wasn't done.
"Defensively, they have no holes," he said. "Offensively, they score in bunches."
Wedd's glossy picture of the Firebirds is, of course, meant to serve as motivation for his players, who probably don't need it anyway because geography is a strong incentive in itself. Certainly the seniors don't need Wedd's hyperbole.
"It's an overwhelming feeling," senior end Quintin Rucker said, "knowing it's your last time to play the team in green across town."
One thing is certain. The Lions (3-4) won't be favored, not with two senior two-way starters on the shelf. Jared Vinoverski and Travis Sanders, the Lions' two leading pass receivers, as well as regulars in the secondary, are out for the remainder of the season because of illness and injury, respectively.
"It's been a real weird season," junior quarterback Clint Pinnick said. "You never know about injuries. We've had so many guys getting hurt."
Pinnick missed two games and most of a third with an ankle injury. In fact, he wasn't expected to return until the Free State game, but was cleared for duty last week and led the Lions to a 28-6 victory over Washburn Rural in their 6A district opener.
"I was shocked when they said I could play last week," Pinnick said.
Whether the depleted Lions can shock the Firebirds tonight remains to be seen, but surprises aren't without precedent in the intra-city showdown.
"I love being the underdog," Rucker said. "That would just make beating them that much sweeter."
Echoed Pinnick: "I like being the underdog. We have something to prove."
And if anyone thinks the Lions are beaten down by all the adversity they've suffered this fall, think again.
"In this program," Rucker said, "we keep our heads up. We think positive."
City showdown probables
Free State
OFFENSE
TE-Mike Santee, 6-2, 215, Sr. RT-Matt Frantz, 6-3, 230, Jr. RG -Scott Williams, 5-11, 230, Sr. C-Michael Lisher, 6-2, 225, Soph. LG-Doug Bittinger, 6-1, 215, Jr. LT-Graham Saunders, 6-4, 235, Jr. WR-Jason Sneegas, 5-11, 160, Sr.
QB-Craig Rosenstengle, 6-2, 190, Sr. RB-Chucky Hunter, 5-9, 185, Jr. H-Back-Caleb Gress, 5-10, 200, Sr. WR-Marcus Holman, 5-9, 150, Sr.
K-Brian Sims, 5-7, 140, Sr.
DEFENSE
LE-Williams. NT-Kevin Coleman, 5-8, 220, Sr. RE-Saunders. OLB-Zack Toelkes, 5-11, 195, Sr. OLB-Mitch Werts, 5-9, 170, Jr. ILB-Santee. ILB-Ryder Werts, 5-10, 220, Sr. ILB-Gress.
CB-Rosenstengle. CB-Sneegas. FS-Cameron Schmidt, 6-1, 170, Jr.
P-Kirk Resseguie, 6-2, 160, Soph.
Lawrence High
OFFENSE
TE-Quintin Rucker, 6-0, 220, Sr. LT-Chebon Dawes, 6-3, 260, Jr. LG-Skyler Countess, 5-11, 215, Sr. C-Ryan Giblin, 5-10, 215, Jr. RG-Jay Baker, 6-0, 215, Soph. RT-Derek Huff, 5-11, 250, Sr. WR-Aaron Rea, 6-0, 190, Jr.
QB-Clint Pinnick, 5-9, 175, Jr. RB-Tyler Hunt, 6-2, 220, Sr. RB-Clifton Sims, 5-8, 175, Jr. WR-Jake Green, 5-11, 175, Jr.
K-Rex Hargis, 6-0, 150, Sr.
DEFENSE
LE-Rucker. LT-Giblin. NG-Countess. RT-Cody Bonham, 5-9, 180, Sr. RE-Rea. LB-Hunt. LB-Rashaad Marshall, 5-9, 175, Jr.
SS-Chase Muder, 5-9, 180, Sr. CB-Murphy Ray, 5-11, 175, Jr. CB-Josh Wedel, 5-8, 170, Sr. FS-Jake Green, 5-11, 175, Jr.
P-Hunt.
City showdown notebook
LHS nursing slim lead
Lawrence High leads the all-time series, 6-4. Twice the Lions have won two games in a row (1997-1998 and 2002-2003), but the Firebirds have never won two straight.
No Conference credit
Tonight's game won't count in the Sunflower League standings because in odd years the league counts the first six games played against league foes in determining the champion. In even years, it's the last six games, meaning next year's meeting will count toward the championship.
Hunting for titles
Free State's Chucky Hunter and Olathe East's JaVon Williams are running neck-and-neck for the Sunflower League rushing title. After seven games, Williams has 887 yards and Hunter 840.
Another close race is for the team scoring title. O-East has compiled 246 points to Free State's 243. Close behind with 236 points apiece are Olathe South and league champ Shawnee Mission Northwest with 236 apiece.
Olathe O-fer
Lawrence and Free State have had only two common opponents - Olathe South and Olathe North. O-South spilled the Lions, 28-9, and the Firebirds, 34-27. O-North stopped Free State, 29-10, and Lawrence, 41-13.
Weather a factor?
Lawrence received 8.5 inches of rain in the week leading up to tonight's showdown, bringing the potential for sloppy playing conditions into the equation.
Mud bowls are nothing new at Haskell Stadium, but even with more than a day to dry out between the last showers and game time, the field might be in bad shape.
The forecast for kickoff is promising, with temperatures expected to be in the high 50s, with winds blowing from the west between 8 and 11 mph. According to weather.com, there is no chance for rain after 7 p.m.
Parking restricted
Parking at tonight's game will not be available at Coffin Complex because of Haskell homecoming activities and weather concerns.
Copyright 2018 The Lawrence Journal-World. All rights reserved. This material may not be published, broadcast, rewritten or redistributed. We strive to uphold our values for every story published.