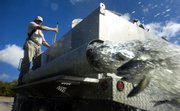 Clinton Lake got a new supply of blue catfish Thursday, while nearby Lake Henry took in a few hundred rainbow trout.
The trout were introduced to their new home as the first week of trout season comes to an end. The season started Monday.
"Unfortunately, we didn't have any trout in there because the warm water temperatures caused us to have to delay the stocking for a week," said Richard Sanders, fisheries biologist with the Kansas Department of Wildlife and Parks.
This is only the second year for blue catfish at Clinton, Sanders said. They look similar to channel catfish because of their forked tails but they do not have spots on them, he said. They grow larger than channel cats and can exceed 100 pounds.
"We're just starting to get them into our reservoirs," Sanders said. "We're interested in getting some of them because of their trophy potential."
Blue catfish can weigh up to 40 pounds in 10 years, Sanders said.
About 14,000 of the catfish were dumped into the lake from a boat dock.
Trout season runs through April 15. Lake Henry will be stocked three more times this fall and then three more times starting in February, Sanders said. With each stocking, about 500 trout pour into the lake, he said.
Most of the trout are caught each season.
Any that are left usually die when the water temperatures warm up, Sanders said.
The trout enter the lake at about 10 inches long and most grow three inches.
Copyright 2018 The Lawrence Journal-World. All rights reserved. This material may not be published, broadcast, rewritten or redistributed. We strive to uphold our values for every story published.