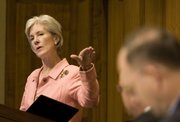 As rained poured outside the Dole Institute of Politics on Wednesday, state officials inside planned for drier weather.
At the state's first Kansas Reservoir Summit, leaders grappled with what to do as the state's 24 federal reservoirs grow older.
Two-thirds of Kansans depend on reservoirs for their water supply. And the manmade bodies of water provide flood control and recreation.
The reservoirs were built to last 50 to 100 years. Half of them have reached the 40- to 60-year mark.
As reservoirs age, sediment builds up, taking away room to store water or provide flood control. More silt at the bottom of these lakes also leads to more algae, which can taint the water with bad smells and a funny taste.
On Wednesday, some voiced concern about what would happen if severe droughts gripped the state.
"With conditions like that, and as demand for reservoir water increases, 20 to 25 years from now, there are some areas in our state where we really have to make some choices and changes," said Tracy Streeter, director of the Kansas Water Office.
Wednesday's topic drew federal agencies, state lawmakers and even an appearance from Gov. Kathleen Sebelius, who gave the summit's opening remarks.
"Hopefully, a favorable rainfall will continue to bless us, but we can't rely on the fact that we are fortunate enough to have adequate rainfall. So we have to continue the efforts to improve the planning process for not only the best-case scenario but worst-case scenario," Sebelius said.
Building more reservoirs isn't likely, officials said, because most of the good spots for dams are taken and environmental regulations have become too burdensome.
Other alternatives would be to raise the level of water in reservoirs or to dredge them. The options all cost millions of dollars and take years of work.
Another solution would be to do more to prevent water run-off and erosion upstream, which would limit the amount of sediment that gets dropped at the bottom of reservoirs.
But officials said Wednesday that decades of soil conservation efforts weren't producing the results they had hoped they would.
Perhaps the biggest question mark left at Wednesday's summit was who would pay for the cost to maintain - and sustain - Kansas' reservoirs.
State Rep. Tom Sloan, R-Lawrence, who initiated the summit, said he plans to address reservoir issues next legislative session. Parties are out there now - such as recreation users and municipalities - that are benefiting from the reservoirs but not paying as much as they should, he said.
The state and communities should be setting aside money now to fix these problems, said former Gov. Mike Hayden, who now is secretary of the Kansas Department of Wildlife and Parks.
"We've been passing the buck to future generations to pay for this water for a long, long time, and the bill keeps accumulating," he said.
Copyright 2018 The Lawrence Journal-World. All rights reserved. This material may not be published, broadcast, rewritten or redistributed. We strive to uphold our values for every story published.