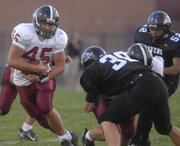 Tyler Hunt doesn't care that he's not the most agile, nimble-footed running back ever to grace a football field.
He prefers a simpler method.
"There are people that get ready (to tackle) you and they think you're going to go one way, but I just go forward, go through them," Hunt said. "It's kind of surprising, I guess."
At 6-foot-2, 220 pounds, Hunt has become Lawrence High's top running back this season with his punishing, straight-on approach that often leaves tacklers on the turf and Hunt in the end zone. In seven games, Hunt has 98 carries for 641 yards and has scored nine of his team's 21 touchdowns.
Assistant football coach Adam Green, who played running back at LHS in 1990 and 1991, said as a bruiser, Hunt ranks among the best to come through the program.
"Once he gets a head of steam going, you don't want to tackle him," Green said. "Not very many people want to tackle Tyler Hunt in the open field 20 yards out."
Hunt said he grew up watching former LHS running backs Brandon McAnderson and Nolan Kellerman, hoping one day to get the chance to emulate their styles on the gridiron.
"They never really danced around," Hunt said. "They just ran people over and it was just really fun to watch. They were really good at keeping their feet going after the hit, and that's what I'm all about."
Averaging nearly 100 yards and one touchdown every game with a bullseye on one's back could easily lend itself to being arrogant.
But that's not Hunt's style, either. Instead, he exudes a quiet confidence on the field, never saying much unless he has to.
"He leads by example," LHS coach Dirk Wedd said. "He's got a great personality. He's got a lot of energy. It's just you don't see it all the time verbally."
What Hunt does bring is his hard-working, no-nonsense attitude to the football field every day. It's a mentality that earned the senior the honor of being elected a team captain by his teammates.
"They voted for me as a leader, and they respect me as a leader," Hunt said. "It's a big responsibility."
Even bigger is what Hunt must do when he is not carrying the ball. After all, coaches have entrusted him with playing three different positions.
"What we expect from him is a lot," Wedd said. "There's probably not another running back in the Sunflower League that plays tailback, fullback and linebacker. We expect him to block for (Clifton) Sims and (Jake) Green, turn around and carry the ball 10, 15 times and get close to 100 yards rushing. And then on defense, he's got to be our leading tackler. Then he also has to punt for a 40-yard average. That's a lot."
In that respect, Hunt may be the most valuable player to any team in the area. Fortunately, the Lions have been able to count on his durability. With getting hurt always a possibility, Hunt has managed to stay injury-free.
"He's just a big, strong kid that spent a lot of time in the weight room," Wedd said, "and it's paying dividends."
Said Green, "I would say that's probably something that he should be most proud of. He carries the ball, he plays linebacker, he punts for us. He's been very versatile, and sometimes you take that for granted."
But high expectations are nothing new to Hunt. He earned a varsity letter as a sophomore, and coaches were so impressed with his ability that they came up with a special moniker just for him.
"We called him golden child when he was a sophomore because he'd get in the game, and every time he touched the ball it seemed like he'd score a 50-, 60-, 70-yard touchdown," Wedd said.
In typical Hunt fashion, though, he humbly shrugs off any mention of the nickname. He wants to be remembered for other things.
"I just want them to say I played hard, had a lot of character, a lot of heart and just gave it my all," Hunt said.
The way Hunt has battered opponents on both sides of the ball this season, it's safe to say this blue-collar, well-respected football player won't soon be forgotten. So what if his approach isn't about glamor and finesse? He just might be paving the road for a batch of future Lions to emulate something new.
Copyright 2018 The Lawrence Journal-World. All rights reserved. This material may not be published, broadcast, rewritten or redistributed. We strive to uphold our values for every story published.