Photo Gallery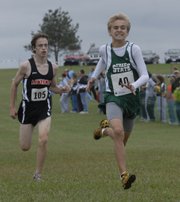 Sunflower League Cross Country
Free State High's girls cross country team wanted a Sunflower League title Saturday. A few thunderstorms, flash flood warnings and two days later, the Firebirds got the object of their desire Monday.
Inclement weather Saturday morning forced high school cross country runners off the Rim Rock Farm course and delayed the Sunflower League championship race, but the Firebirds, undeterred by the postponement, finally took to the course and won a league title Monday afternoon.
FSHS, led by junior Kyra Kilwein, had three runners in the top 20 and finished with 91 points to take the Sunflower League crown. Kilwein finished third, behind first-place runner Lisa Imgrund of Shawnee Mission Northwest and Olathe Northwest's Rebeka Stowe. Free State's Hayley Francis finished the four-kilometer race 12th, and sophomore Morgan Flannigan finished 20th.
Kilwein said she came to Rim Rock on Saturday ready to race.
"I very much wanted to compete that day, but I guess you just can't control the weather," she said, adding that she took the extra time to contemplate the race so she would be prepared Monday.
She would have preferred a first-place finish as an individual, but Kilwein said she gave it her all, which was evident when she crossed the finish line and hardly could walk back to the FSHS tent.
"All I could do was just give 110 percent, and I almost felt like I could give a good kick at the end, but, oh well," she said. "All I can do is become a better person and a better runner every day."
Lawrence High's girls finished eighth at the event and were led, as usual, by senior Kelly Renfro, who finished 10th with a time of 16:05.15. She found some good in the two-day delay for the race.
"We didn't have to run in the pouring rain when it was really muddy," Renfro said. "But I was kind of ready for it Saturday, and having to wait two days was kind of hard because it gave me 21â2 more days to think about it and get nervous."
However, she said she didn't feel good about her 10th-place finish.
"I was hoping I'd be up there with the leaders," Renfro said. "I don't know, today just wasn't my day. Hopefully I'll be able to do it in two weeks (at the state championship race at Rim Rock), though."
Renfro also finished 10th at the Rim Rock Classic last month.
"The course is kind of not my favorite right now," she said. "Hopefully over the next two weeks I'll be able to psych myself up enough to do well."
The boys teams for the Lions and Firebirds finished fifth and sixth, respectively.
Free State's Logan Sloan, who finished eighth, was the first city boys runner to cross the finish line, edging out the Lions' Roy Wedge by less than a second.
"I was really happy about that," the freshman Sloan said of being the first Lawrence runner to finish. "That's been one of my goals."
Sloan said the two-day delay took runners out of their routines. Races normally take place in the morning, and with a 1 p.m. start Monday, runners were faced with some decisions, such as whether to eat breakfast and lunch. Sloan said he skipped lunch and had Lucky Charms for breakfast.
"I don't like to have anything in my stomach," he said of his ideal running conditions.
Race-day diets aside, the two-day postponement now shortens the practice time for FSHS and LHS before Saturday's regional at Washburn Rural.
"It's especially going to throw off regionals, too," Sloan said of the delay. "Our practice schedule will be a little messed up."
Wedge said he didn't expect to be the first LHS runner across the finish line; he thought senior Dylan Hedges, who finished 12th, would be ahead of him. Hedges appeared to be hampered with a leg cramp in the late stages of the race.
A sophomore, Wedge said there wasn't much to his strong finish.
"I got out pretty quick and just held onto it," he said.
Copyright 2018 The Lawrence Journal-World. All rights reserved. This material may not be published, broadcast, rewritten or redistributed. We strive to uphold our values for every story published.