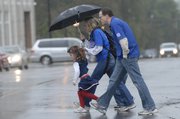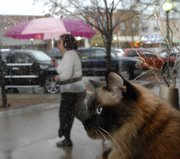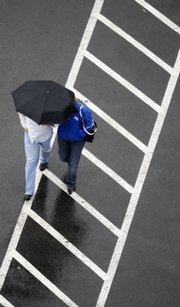 By 9 a.m. a day's worth of rain had already fallen on Lawrence, but that didn't keep Kansas University football fans from huddling under tents, porches and in the corners of Memorial Stadium before Saturday's game against Baylor.
As thunder clapped and rain changed from a drizzle to a downpour, Mark Gwaltney was standing just outside a tailgate tent cooking scrambled eggs over a grill. He had been there since 7:30 a.m.
"We love our Jayhawks; rain or shine, we are here," Gwaltney said.
Saturday was mostly rain with little shine for Lawrence. As of 4 p.m., 2.28 inches of rain had been recorded at Lawrence Municipal Airport.
Throughout town, streams sprouted up along city streets and water pooled at intersections. But no roadways were shutdown Saturday, Lawrence police Capt. Steve Zarnowiec said. Douglas County dispatch said it had received few reports of flooding.
The rain played a role in more than a dozen accidents Saturday along the Kansas Turnpike, a dispatcher said.
By Saturday afternoon skies had cleared somewhat, but don't put the rain gear away yet.
6News meteorologist Sarah Jones predicted a soggy weekend. She forecast a slight chance of rain for this morning and thunderstorms, possibly severe ones, for this afternoon.
Rain is expected until Monday. For the middle part of the week, drier weather with average fall temperatures should be on the way. On Thursday there is another chance for storms.
An upper level system is hovering over the middle part of the country and that's the cause for all the rain, Jones said.
"We're waiting for this storm system to move through, which is going to take a few days," she said.
Saturday's rain pushed back the start of KU's football game to 1:15 p.m.
As the rain poured, those tailgating with Gwaltney kept a close eye on the puddle forming on the sand next to the shotput circle just outside of Memorial Stadium. The water was getting threateningly close to where tailgaters were huddled in the tents.
"The floor is going to get wet," Gwaltney said.
The floor was already a grassy, muddy mess.
Some in the crowd agreed that it hadn't rained this much at a football game since KU played Northwestern in 2003. And that time, Stan Hazlett said, the rain came mostly during the game.
Tailgater Toni Dudley took an upbeat approach to what some would consider a game day damper.
"Someday, we are going to look back on this and laugh," she said.
Copyright 2018 The Lawrence Journal-World. All rights reserved. This material may not be published, broadcast, rewritten or redistributed. We strive to uphold our values for every story published.